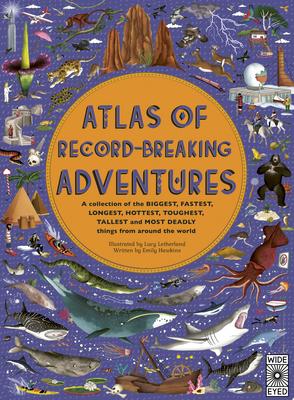 $39.99
NZD
Category: Atlases | Series: Atlas Of:
Come face-to-face with the biggest, toughest, oldest and most unmissable wonders on Earth in Atlas of Record-Breaking Adventures, the sixth and latest in the bestselling series.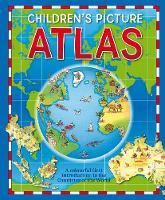 $19.99
NZD
Category: Atlases
Designed to introduce young children to the world in which we live, this is a fun and informative introduction to the countries of the world. Twenty-one pictorial maps, each accompanied by fact-packed accessible text, show landforms and cultural, industrial and agricultural features for each country. Ch ildren will love poring over these busy maps and searching the detailed pictures to discover more about each country. ...Show more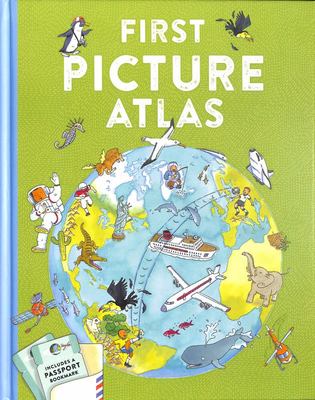 $29.99
NZD
Category: Atlases
Take an exciting journey around the world and explore every country on Earth. Beautifully illustrated by award-winning Anthony Lewis, the colourful maps, plus lively and informative text make this an essential atlas for younger readers. Jet off to South America and discover the Amazon rainforest, journ ey to Scandinavia and visit a mermaid, then wrap up warm as you head south to Antarctica - the coldest place on Earth. Pictograms show where to find animals and places of interest: can you find the sunbathing walrus in Alaska? And the Tasmanian devil in Australia? The passport bookmark means you won't lose your place as you travel the globe. This atlas is the perfect first geography reference book for both home and school. ...Show more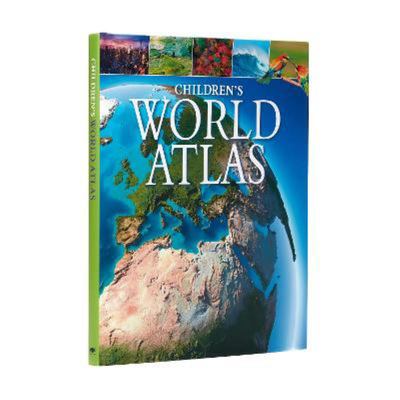 $24.99
NZD
Category: Atlases
This beautifully illustrated atlas is a celebration of our extraordinary, interconnected planet, specially designed for young readers. From Afghanistan to Zimbabwe, children can explore all corners of the world through perfectly rendered, clearly annotated maps.
$30.00
NZD
Category: Atlases
Our house is on fire - it's time to wake up to the climate crisis facing planet Earth before it's too late. Which countries generate the highest CO2 emissions? Which coastal cities are most vulnerable to rising sea levels? What will the polar ice caps look like in 10 years' time? Which countries have su ccessfully harnessed renewable energy sources? This unique graphic altas tells you everything you need to know about the current climate emergency, and what we can do to turn things around. Packed with facts and figures and more than 30 dynamic maps, Climate Emergency Atlas is clear and easy to understand, making it the perfect reference guide for all young climate activists. ...Show more
$26.99
NZD
Category: Atlases | Series: Lonely Planet Kids
This interactive atlas treats young readers to a hands-on journey around the world. Each page turn brings the continent to life with flaps to lift, detailed illustrations and facts about, people, animals, and fun places to visit.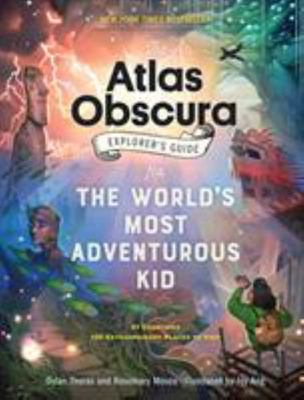 $49.99
NZD
Category: Atlases | Series: Atlas Obscura
Calling all curious kids! It's time to pack your bags and embark on the journey of a lifetime. Created by the same team behind Atlas Obscura, the #1 New York Times bestseller that has over 600,000 copies in print in its first year, The Atlas Obscura Explorer's Guide for the World's Most Adventurous Kid is a thrillingly imaginative expedition to 100 of the world's most mysterious and mesmerising places. The hottest place on earth, and the coldest. Lava lakes and the otherworldly Blood Falls of Antarctica. An underwater spaceship graveyard and a museum of dancing mummies. As compelling as the destinations is the way the book unfolds. Imagine the world's most ingenious tour guide working with an unlimited budget, and this is the journey you'd take: hopscotching from country to country in a daisy chain of connecting attractions. For example, visit the site of a mysterious meteor crash in Siberia, then turn the page and learn about one in the Yucatán. While in Mexico, visit the fantastical crystal caves, and then turn the page to find yourself in another massive cave, this time in Vietnam. Illustrated in gorgeous and appropriately evocative full-spread watercolours, this book is a passport to a world of hidden possibilities. ...Show more
$24.99
NZD
Category: Atlases
A beautifully illustrated picture atlas designed to take children on an exciting journey around the world. The atlas opens with the continents, then presents a world view of countries before exploring deeper into each country and the exciting places to visit within each. - The maps are clear, colourful and perfect for children to explore the world and let their imaginations run riot. - Illustrated by Steve Evans. - This book is ideal for home or school and finding out more about the world whilst also helping to develop essential reading skills. - Clear, colourful, highly informative, illustrated mapping designed for young readers. - Arranged by continent for easy reference. - Facts about the world we live in are included on each spread. ...Show more
$14.99
NZD
Category: Atlases
Colourful Illustrated Map of the World This bestselling, highly illustrated pictorial map is designed to take children on a journey of discovery around the countries of the world. The mapping is up-to-day, colourful and highly informative and shows countries and capital cities. Stunning illustrations ar e used to depict themes such as national emblems, customs, food, birds, animals, buildings and sports to help younger readers gain an understanding of peoples around the world. Dimensions 610 X 915 mm / 24 x 36 inches Illustrated by Steve Evans. ...Show more
$22.99
NZD
Category: Atlases | Series: Collins Primary Atlases
Fully revised and updated for 2020, this is an ideal world reference atlas for young primary school geographers aged 9-11 years (Key stage 2). Published in association with the Geographical Association, it enables children to learn about the world today and understand how maps and atlases work. * The at las is organised into sections covering the UK, Europe, the world and continents with more detailed larger scale maps of countries and regions popular for focus studies. * It includes topics such as climate, population, migration, trade and environmental issues, such as global warming. * Topographical based mapping helps the young geographer understand the processes which take place during the formation of the earth's landscapes. * The reference mapping is designed for maximum clarity and accessibility, and is supported by photographs and data boxes, with detailed map keys and scale information on each map. * Specially selected topic maps give additional information linking to knowledge and understanding of distant places. * Tables of key world country data include an Ecological Footprint figure for each country. selected topic maps give additional information linking to knowledge and understanding of distant places. * Tables of key world country data include an Ecological Footprint figure for each country. ...Show more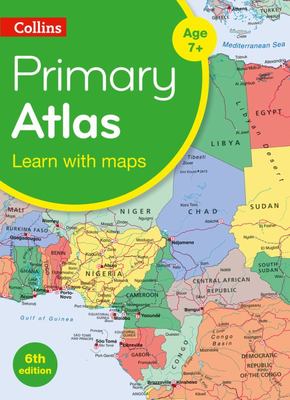 $21.99
NZD
Category: Atlases
Providing an introduction to mapping of all major regions of the world, this reference includes information on map reading skills, the meaning of scale and measuring distances. The reference maps are informative, politically colored, and easy to read with national capitals and major cities easily identi fiable. The maps are supported with national flags and basic national statistics. Continental maps are linked to the regional mapping and are supported by a selection of aerial and terrestrial photographs. Continental relief maps show layer coloring and major physical features are highlighted. The index uses a simple grid reference system, and a selection of web addresses is included to help with further study. ...Show more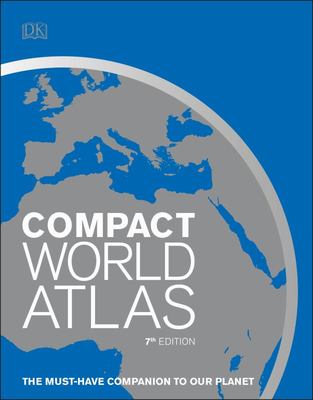 $30.00
NZD
Category: Atlases
Now in its 7th Edition, Compact World Atlasprovides a fascinating insight into the world in which we live. Featuring DK's outstanding cartography and design, this fully revised edition has been updated to reflect recent geopolitical changes, such as the new nation of South Sudan, the annexation of Crime a, the Inuit place names in Canada and the populations of Chinese towns. With 65 clear, easy-to-read maps, this atlas combines improved visual landscape modelling with key roads, railways, rivers and settlements. Learn more about each of the world's 196 nations, with an accompanying factfile which provides an insight into even the most remote of countries. With figures and insights, from both the political world to the physical world, Compact World Atlasis a necessary staple to any bookshelf.   ...Show more