$18.99
NZD
Category: Graphic Books | Series: Dog Man
The next great Dog Man adventure from the worldwide bestselling author and artist Dav Pilkey. You'll howl with laughter! The Supa Buddies bamboozled the baddies, but all's not right in the world. Dog Man has a new problem to pound, and he's going to need his entire pack to help him. Will he go barking u p the wrong tree?   Dav Pilkey's wildly popular Dog Man series appeals to readers of all ages and explores universally positive themes, including empathy, kindness, persistence, and the importance of doing good.   ...Show more
$16.99
NZD
Category: Graphic Books | Series: The Odds
They're invaders from another world. Your imagination. Kip is a quiet kid in a loud city. She's easy to miss and that's the way she likes it.Then, one day, Kip's quiet life is suddenly interrupted. Ten of her favourite characters have stepped out of their worlds and into hers.But what happens when a dra gon-hunting rabbit leaves his comic strip? When an old man leaves his picture book? When a ninja leaves her TV show, a race-car driver leaves their video game, and a dinosaur turns up from Kip's nightmares? From million-copy bestseller Matt Stanton comes the start of a hilarious and heart-filled graphic novel series about identity, imagination and discovering who you are.Meet The Odds ... because fitting in is overrated. ...Show more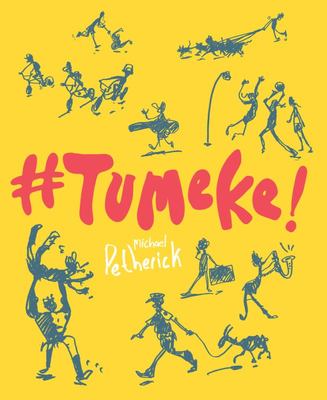 #Tumeke!
by Michael Petherick
$29.99
NZD
Category: NZ Middle Fiction 8-12-year-olds
Plans for the Newtoun community's Waitangi Day celebrations are well under way. The Tape Orchestra's practising like mad. Monty and Mr Steve Vibrant are designing a poster. Rishi's trying to land Lil Yacht Shifty … and Ms Ropata's juggling it all because everyone wants in. There'll be curry and cake, ka pa haka, halal sausages, foam blasters, the Naenae dirtman, and kiss-the-goat — if Constable Rutene can manage to chase one down. In the meantime, Dreadflock's considering a blog, Briony's Mum's being a helicopter, and everyone's eating a lot of lolly cake. In the boundary-riding tradition of the Annual project, Annual Ink's latest title #Tumeke! brings you the lives, loves and larrikin spirit of an inner-city neighbourhood. The story is told through texts, Instagram posts, emails, fliers, committee minutes, posters, diary entries, blog posts, chatrooms, school homework, raps and the reliably bonkers community noticeboard. Stuffed with big personalities, surprising friendships and a little intrigue, this multimedia story brims with creativity and comedy, and everyday heartaches, too. Debut novelist Michael Petherick juggles a large cast and multiple story threads with panache, giving us a window on a vivid, warm-hearted community. A narrative — but not quite as we know it — for middle readers and anyone who loves to connect. To look inside, click here. ...Show more
$19.99
NZD
Category: Graphic Books | Series: Emmie and Friends
Perfect for fans of Raina Telgemeier and Jennifer L. Holm, Invisible Emmie is a humorous and surprising debut graphic novel by Terri Libenson, creator of the internationally syndicated, Reuben Award-winning comic strip The Pajama Diaries. This is the story of two totally different girls--quiet, shy, ar tistic Emmiepopular, outgoing, athletic Katie--and how their lives unexpectedly intersect one day, when an embarrassing note falls into the wrong hands. . . .All the crushes, humiliations, boredom, and drama of middle school are compressed into one surprising day in this extraordinary novel. Plus don't miss Terri Libenson's Positively Izzy, Just Jaime, and Becoming Brianna --Victoria Jamieson, Newbery Honor author-illustrator of Roller Girl ...Show more
$16.99
NZD
Category: Graphic Books | Series: The Baby-Sitters Club Graphix
A brand-new full-colour graphic novel adapted by bestselling author Gale Galligan! Kristy's mom is getting married, and Kristy is going to be a bridesmaid! The only trouble is, fourteen kids are coming in town for the wedding. Kristy, Claudia, Mary Anne, Stacey, Dawn, and Mallory think they can handle it, but that's before they spend a week changing diapers, stopping arguments, solving mix-ups, and planning activities. It's the biggest job the BSC has ever had, but they'll work together to make sure Kristy's big day is a success! ...Show more
$19.99
NZD
Category: Graphic Books | Series: Phoebe and Her Unicorn
It all started when Phoebe skipped a rock across a pond and accidentally hit a unicorn in the face. Improbably, this led to Phoebe being granted one wish, and she used it to make the unicorn, Marigold Heavenly Nostrils, her best friend. But can a vain mythical beast and a nine-year-old daydreamer really forge a connection? Indeed they can, and that's how Phoebe and Her Unicorn unfolds. This beautifully drawn strip follows the unlikely friendship between a somewhat awkward girl and the unicorn who gradually shows her just how special she really is. Through hilarious adventures where Phoebe gets to bask in Marigold's 'awesomeness', the friends also come to acknowledge that they had been lonely before they met and truly appreciate the bond they now share. ...Show more
$21.99
NZD
Category: Graphic Books | Series: Amulet
After the death of their father, Emily and Navin move with their mother to their deceased great-grandfather's home. The house proves to be dangerous and leads them into an underground world inhabited by demons, robots, and talking animals.
$21.99
NZD
Category: Graphic Books | Series: Asterix
When the Romans persuade a Gaulish chief to challenge Vitalstatistix to single combat, no one worries much. But then a flying menhir hits Getaflix and he no longer remembers how to make his magic potion. Can Asterix help restore Getaflix's memory?
$19.99
NZD
Category: Graphic Books | Series: Emmie and Friends
National bestselling author Terri Libenson returns with another endearing, relatable story of friendship and finding confidence. Perfect for fans of Raina Telgemeier and Jennifer L. Holm. Middle school is full of challenges. Everyone knows how much brainy Bri likes the spotlight (not). So why did she ever agree to something that forces her to learn a new language, give a speech, help organize a party, and juggle drama at school and home?! As the big event inches closer, Bri wonders if it's all worth it. . . . Told in alternating past and present chapters, Bri's heartwarming story unfolds over the eight months leading up to her bat mitzvah--as well as over the course of the big day itself. Plus don't miss Terri Libenson's Invisible Emmie, Positively Izzy, and Just Jaime! ...Show more
$19.99
NZD
Category: Graphic Books | Series: Emmie and Friends
Another spot-on story of middle school drama and friendship from Terri Libenson, national bestselling author of Invisible Emmie and Positively Izzy. Friends. Frenemies. Middle school... The last day of seventh grade has Jaime and Maya wondering who their real friends are. Jaime knows something is off with her friend group. They've started to exclude her and make fun of the way she dresses and the things she likes. At least she can count on her BFF, Maya, to have her back . . . right? Maya feels more and more annoyed with Jaime, who seems babyish compared to the other girls in their popular group. It's like she has nothing in common with Jai anymore. Are their days as BFFs numbered . . . ? Perfect for fans of Raina Telgemeier and Jennifer L. Holm. ...Show more
$16.99
NZD
Category: Graphic Books | Series: The Baby-Sitters Club Graphix
Kristy, Mary Anne, Claudia, and Stacey are best friends and founding members of The Baby-sitters Club. Whatever comes up -- cranky toddlers, huge dogs, scary neighbors, prank calls -- you can count on them to save the day. Baby-sitting isn't always easy, and neither is dealing with strict parents, new f amilies, fashion emergencies, and mysterious secrets. But no matter what, the BSC have what they need most: friendship.Raina Telgemeier, using the signature style featured in her acclaimed graphic novels Smile and Sisters, perfectly captures all the drama and humor of the original novel ...Show more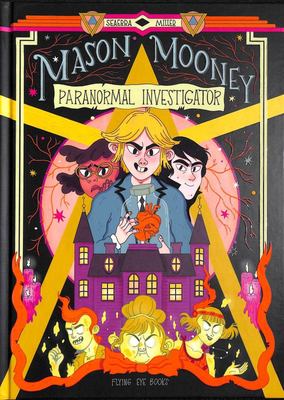 $32.99
NZD
Category: Graphic Books
A spooky, ghost-filled and hilarious adventure awaits when you dive into the mysterious world of Mason Mooney! Join Paranormal Investigator Mason Mooney as he tackles ghosts, witches and grumpy teenagers to prove once and for all who the REAL talent in the world of paranormal creatures. If anyone can fi gure out what's going on in Grimbrook's most haunted house - it's him. And no one else. But with an evil curse looming over him and the house's inhabitants, can Mason finally prove to the Society of Peculiar Paranormal Phenomena that he's the best around - or is he a bit out of his depth? Packed with evil curses, haunted houses, quirky characters and a town full of unexplained phenomena, Seaerra Miller's new series of illustrated comic-like books are sure to be a hit with kids who love twisted tales and action-packed, mysterious stories. ...Show more