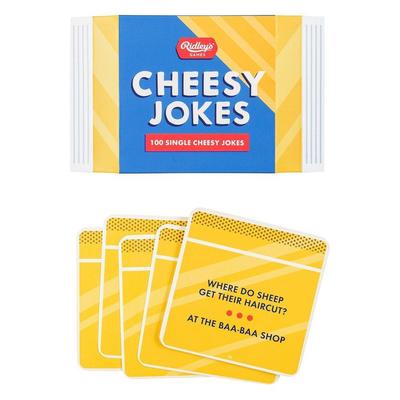 $14.99
NZD
Category: Jokes and Magic
Share a few cringe-filled laughs with this set of 100 Cheesy Jokes. The set contains 100 cheesy jokes like "where do sheep get their hair cut? At the baa-baa shop". Great conversation starters for any party or family  night Recommended for kids and adults of all ages! Will you be laughing or cringi ng with these fantastic family-friendly gifts! ...Show more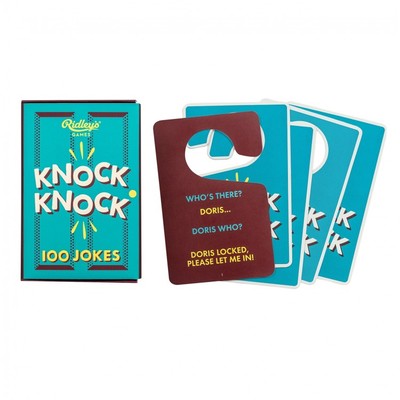 $14.99
NZD
Category: Toys
Love a good 'Knock Knock' joke? Knock yourself out with this set of 100 'Knock Knock' jokes on door hanger shaped cards packaged in a gift box. Perfect for anyone with a silly sense of humour this set of jokes cards will make a great birthday or Christmas gift. Example: KNOCK KNOCK. Who's there? Pasta… Pasta Who… Pasta La Vista Baby! ...Show more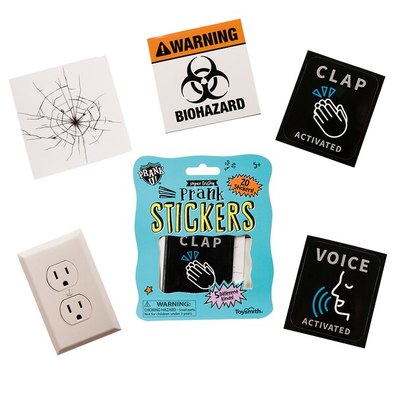 $9.99
NZD
Category: Jokes and Magic
20 Stickers - Four each of five different designs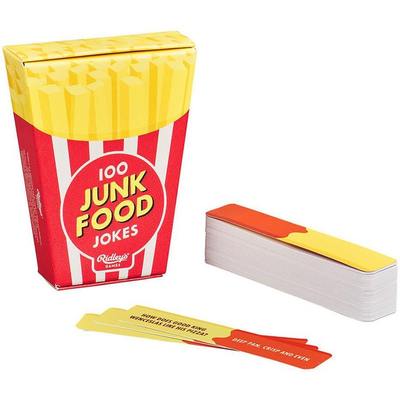 $10.99
NZD
Category: Jokes and Magic
For the junk food junkies out there, have a taste of these 100 Junk Food Jokes from Ridley's Games! You'll be on a roll with these truly bad-for-you jokes, like "Where Do Burgers Go To Dance? To the Meatball".
$19.99
NZD
Category: Jokes and Magic
What happened when the pencils played the crayons? It was a draw   Why can't cats sing in key? They always eat the tuner   Why did the dog breathe into the washing machine? It was trying to clean its pants   What do you call a man with a cat down his trousers? Claude   Giggle yourself silly with over 500 original jokes by Tom E. Moffatt - Author of Children's Laughter. These brand-spanking-new jokes are a great way to freshen up your joke repertoire and change that broken record. Brimming with squeaky-clean family fun, amusing introductions from the author and hilarious illustrations throughout.... I'm Joking makes the perfect gift for children aged 8 and up. ...Show more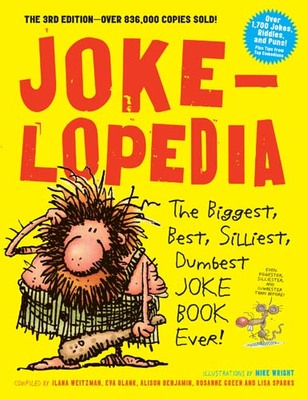 $21.99
NZD
Category: Jokes and Magic
The fourth edition of the mother of all kids' joke books is no joke! It's smaller in size but still packed with every joke in the original book! Jokelopedia is an all-encompassing, gut-busting collection of more than 1,700 kid friendly jokes, tongue twisters, riddles, and puns. The perfect gift for the incurable jokesters, class clowns, comedians to be, and aspiring ventriloquists - not to mention the quieter kids who still love a good laugh - it features doctor jokes, robber jokes, teacher jokes, why did the chicken cross the road jokes, light bulb jokes, movie star jokes, gross-out jokes, vampire jokes, and elephant jokes. Plus, it has the classics, fresh variations on the classics, and jokes with nothing classic about them. And all jokes are organised into categories for easy reference. In addition there are joke-telling pointers and tips, funny facts and pop culture references, and two dozen spotlights on favourite TV shows, books, comics, and comic actors, including iCarly, Diary of a Wimpy Kid, Steve Carell, and Tina Fey. ...Show more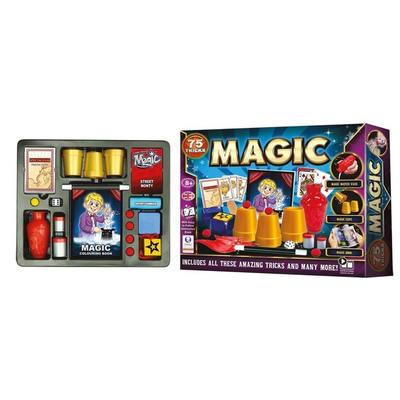 $39.99
NZD
Category: Jokes and Magic
Perform miraculous card tricks, read minds, make objects disappear in your 'bare hands'! Perform the amazing cups & balls routine. Make a spectacular prediction and show how the magic water vase never stops pouring water. Everything included to perform an amazing magic show!
$35.00
NZD
Category: Jokes and Magic
A great magician never reveals their secrets, but Marvelous Magicians reveals the names of eight groundbreaking illusionists, both famous and lesser-known, who shaped modern magic. Through a magical blend of biography, history, and illustration, this book spotlights an array of magicians, including one of the first female magicians, Adelaide Herrmann; African American illusionist Richard Potter, "The Handcuff King" Harry Houdini, and Houdin, Houdini's namesake and inspiration. With two spectacular fold-out pages revealing the secret workings of the Automaton Chess Player and Howard Thurston's dramatic transformation of an empty box into a world of wonders, this book examines the early history of magic, the eight magic effects on which all tricks are based, the necessary components of a magician's toolbox, and the underrated role of the magician's assistant. The book's grand finale features advice on becoming a magician, an introduction to contemporary magicians from around the world, and an exploration of the hidden societies who have kept the secrets of illusions closely guarded for decades. Vibrantly illustrated and written in a theatrical style, Marvelous Magicians is the perfect book for aspiring magicians who want to know more about its history and the innovators who de ned it. ...Show more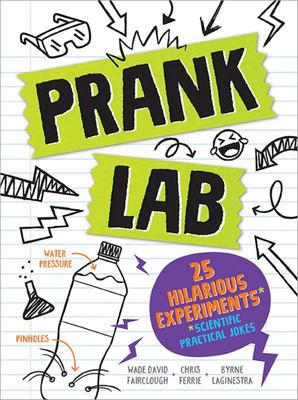 Pranklab
by Chris Ferrie; Byrne LaGinestra; Wade David Fairclough
$29.99
NZD
Category: Jokes and Magic
Learn about chemistry, physics, biology and more while performing fun and hilarious pranks with this unique book from the #1 bestselling science author for kids! What's more fun than a practical joke? A SCIENTIFIC practical joke! Your friends and family might be annoyed at first...until they realize the y're learning about science too! Written by a quantum physicist and two science teachers, Pranklabshows kids how they can use everyday household items to exploit the laws of physics, biology, and chemistry through entertaining (and perfectly safe) activities. Each prank includes step-by-step instructions, colorful illustrations and diagrams, and additional notes and fun facts to explain the science behind the prank! Includes awesome pranks like: Fountain Dew Exploding Ketchup Cheater's Dice Mind Control Elevator and more! ...Show more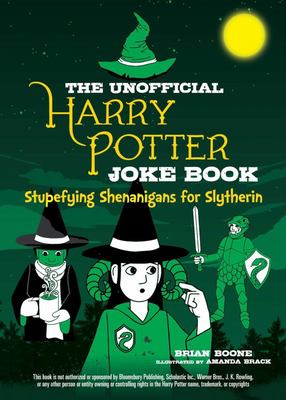 $18.99
NZD
Category: Jokes and Magic | Series: Unofficial Harry Potter Joke Book Ser.
Tickle Charms and Laughing Potions, meet your match! This follow-up to The Unofficial Harry Potter Joke Book: Great Guffaws for Gryffindor Here's just a sampling of the jokes you'll find inside: Which Hogwarts professor gets blamed for everything? Professor Snape Goat. What's Professor Lupin's favorit e day of the week? Moonday. Why did Gilderoy Lockhart team up with Nearly Headless Nick? He needed a ghostwriter. Did you hear that Professor McGonagall's animagi and Crookshanks get together and gossip about students? They're very catty. Featuring pages and pages of jokes and more than fifty fantastic illustrations for Hogwarts lovers, this joke book provides endless fun. Have all your friends spellbound by hours of laughter! ...Show more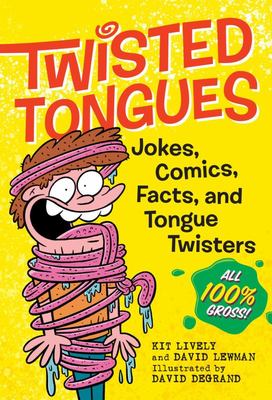 $19.99
NZD
Category: Jokes and Magic
Say this ten times fast: Big bedbugs bite pet pugs' butts!   Featuring the funniest things in life--like barf, drool, mucus, pus, and gas--Twisted Tongues is an excellent collection of more than 150 tongue twisters, all sure to gross out your parents.   Use the Twist Level meters to gauge your skill and challenge others in mouth-mangling twister games. Then enjoy riddles told by two talking boogers!   There's loads to learn, too: Did you know that ancient Romans scraped off their skin's oil and sweat and sold it as medicine? Ewwwww.   ...Show more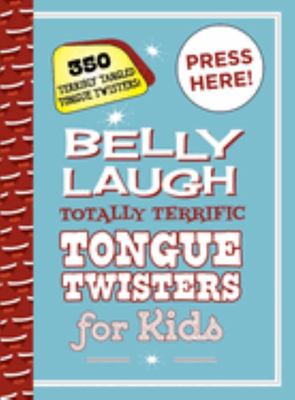 $19.99
NZD
Category: Jokes and Magic | Series: Belly Laughs
One-one was a racehorse. Two-two was one too. One-one won one race. Two-two won one too.   How much wood would a groundhog chuck if a groundhog could chuck wood?   The instinct of an extinct insect stinks   Belly Laugh Totally Terrific Tongue Twisters for Kids is full of hilarious tongue-twisting fun From snappy one-liners to hilarious stories and jokes, this collection is complemented by sidesplitting line drawings and an uproarious tongue-tied babbling sound-effect button. Perfect for rainy spring days, long car rides to visit relatives, and get-togethers with friends, this book is sure to bring silly laughter and comical wordplay fun into your home. ...Show more