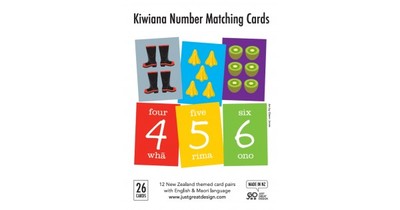 $16.99
NZD
Category: Maths
  12 New Zealand themed card pairs with English & Maori language. Cards measure138mm x 103mm. 26 cards in the pack.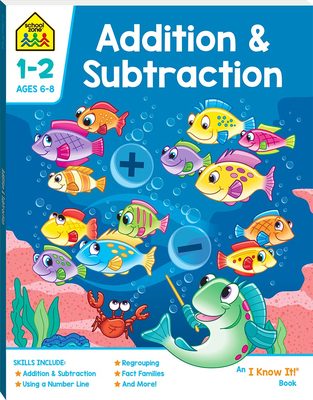 $9.99
NZD
Category: Maths | Series: School Zone
Learning addition and subtraction skills can be easy and fun with Addition & Subtraction. The lessons in this book focus on understanding and practising addition and subtraction with single-digit, two-digit and three-digit numbers. Featuring clear instructions, step-by-step examples and colourful il lustrations, these engaging activities teach and reinforce regrouping, fact families, and more. ...Show more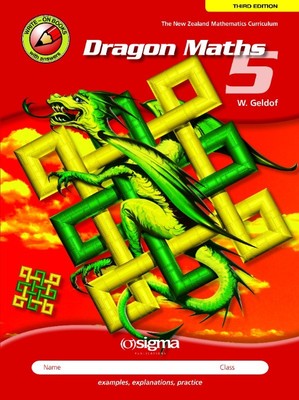 $24.99
NZD
Category: Maths
Dragon Maths workbooks are a best selling series from Sigma Publications, having sold over 350,000 copies to date. Dragon Maths workbooks 5 and 6 are specifically written for the Intermediate school levels (Years 7 & 8) of the New Zealand maths curriculum. Each write on workbook contains 120 pages o f activities for homework or for the classroom . They can also be used for extension work with more able students in Year 6, due to the sequential nature or the series. All the Dragon Maths write on maths workbooks contain: * Instruction boxes providing simple directions for the maths on that page; a reminder of classroom teaching Worked examples that show, step by step, the techniques and methods used to solve the maths problems on that page * Illustrations, graphs, diagrams and photos, to maintain interest and help link abstract maths to real-life situations * A full set of answers, that is easily removable if required ...Show more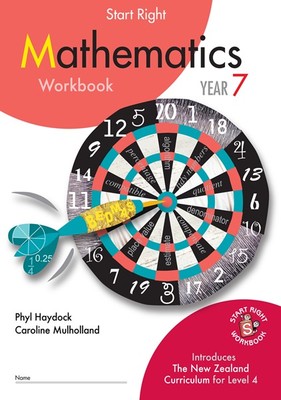 $24.95
NZD
Category: Maths
This workbook introduces Level Four of The New Zealand Curriculum, Mathematics and Statistics and supports learning for the Mathematics National Standards and will suit 11 and 12-year old students. It is divided into Number and Algebra, Geometry and Measurement and Statistics. Features easy to follow br ief, clear explanations, worked examples and plenty of exercises and puzzles with answers in the back of the book. Footers on each page indicate the curriculum objective covered on that page ...Show more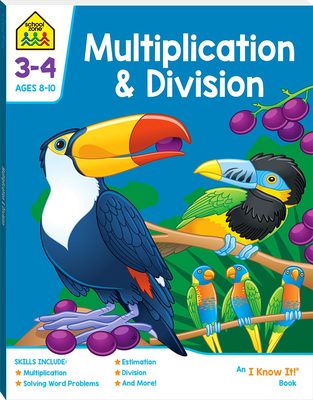 $9.99
NZD
Category: Maths | Series: School Zone
Multiplication and division are difficult concepts for many children. The lessons in Multiplication & Division focus on practising the multiplication and division basic facts, multiplying and dividing two- and three-digit numbers by one-digit numbers, and working with remainders. Clear instructions, step-by-step examples and a fascinating rainforest theme will help your child enjoy practising multiplication and division skills. ...Show more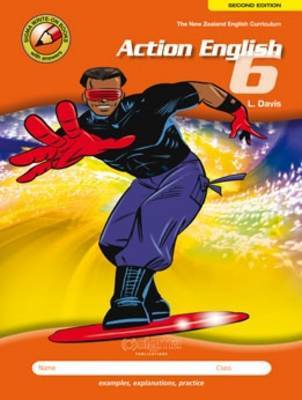 $22.99
NZD
Category: Maths
'Action English 6 (Year 8) - 2nd Edition' is a write-on student workbook that contains a complete written language programme suitable for most Year 8 students. The second edition contains eight chapters and 140 pages and covers the full range of key literacy skills as prescribed in the New Zealand Engli sh Curriculum document; specifically, this book provides solid coverage of Level 4 of the curriculum. 'Action English 6' contains skills building exercises as well as topic instruction, definitions, worked examples, 'mind-mapped' chapter overview pages, chapter tests and a full set of removable answers. This enables most students to work independently of the teacher. Parents can also use these features to make home learning sessions more positive for themselves and their child. The write-on nature of this workbook makes tasks easy to complete and the pages are full of interesting activities, drawings, photos and fun superhero-themed cartoons. Possibly the best use of this resource is as a homework book after new literacy skills have been introduced by the teacher and students have done some supervised work. However, it can also be used as revision work before national standards tests or as a catch-up text for those who have missed school or need to fill gaps in their written language skills. Sample Topics: Chapter 1 - Word Classes : Common and Proper Nouns, Adjectives, Conjunctions, Pronouns Chapter 2 - Punctuation : Apostrophes, Quotation Marks, Exclamation Marks, Brackets Chapter 3 - Language Skills : Proverbs, Synonyms, Antonyms, Homonyms, Homophones, Tenses Chapter 4 - Dictionary Skills : Headwords, Pronunciation, Syllabification, Meanings, Maori Words Chapter 5 - Spelling Skills : Learning Methods, Consonant Blends, Prefixes, Suffixes, Misused Words Chapter 6 - Written Language : Sentence Structure, Paragraphs, Proof Reading, Imaginative Writing Chapter 7 - Comprehension Skills : Online News, Wikipedia Entry, Reviews, Advertising, A Fable Chapter 8 - Research Skills :Topic Selection, Information Sources, Keywords, Presentation, Evaluation ...Show more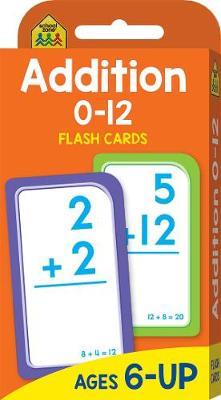 $7.99
NZD
Category: Maths | Series: School Zone Flashcards
Does your child need a boost in math skills? Does he or she still find addition confusing? Our addition flash cards will help your first or second grader learn basic addition - big, bold numbers on the flash cards are easy to read, bright colors to keep children interested, and answers are on the back s ide of every math flash card. Your child can use these flash cards independently or with a buddy. It's also a great way for parents to turn learning addition and math into a fun family activity! Age: 6 years and up Item no: 93392 Package Dimensions: Approx 8 x 16 x 2 cms Contents: 55 problem cards, 1 parent card Numbers written in bold, block-style Answers on the opposite side of each card Thick, glossy cardstock Rounded corners for easy sorting Includes a Parent Card with tips and instructions ...Show more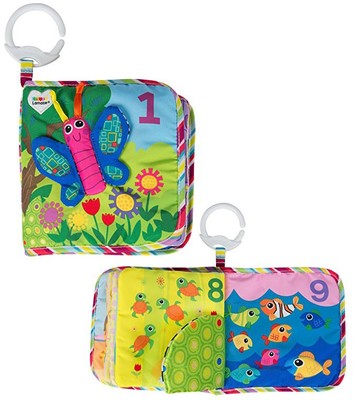 $28.99
NZD
Category: Board & Cloth Books
Learn to count and identify 10 different colourful animal characters with the Lamaze Counting Animals Soft Book. Grip and grab the soft pages that are filled with lots to see, touch and feel promotes development of fine motor skills, plus the high contrast, colourful scenes promote visual development. S hare this Lamaze soft book with baby to bond in a warm and loving way. Even at a very young age, children can begin to understand the process of reading. Reading fosters imagination and the idea of possible worlds. Through identification with characters in a book, children learn social skills such as sharing, taking turns, and cooperation. Reading also allows children to learn about their environment. As they begin to point out places and objects that are new, they learn the concepts of shape, colour, and size. A child and caregiver bond in a warm and loving way through the experience of sharing a book. Lamaze Books are developed in conjunction with developmental experts. The back cover of each book includes play ideas, ways to use the book, the benefits of reading to your child, and developmental stages for that specific age.  ...Show more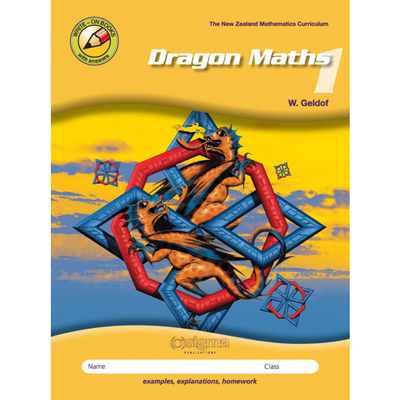 $22.99
NZD
Category: Maths
Dragon Maths 1 revises Level 1 and starts work on the Level 2 skills in the NZ Mathematics an Statistics Curriculum.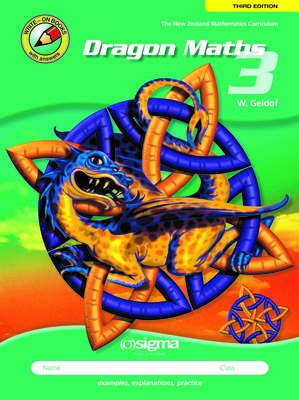 $24.99
NZD
Category: Maths
'Dragon Maths 3 (Year 5) - 3rd Edition (2018)' is a 136 page write-on student workbook that contains a full mathematics programme suitable for most Year 5 students. It revises work at mathematics curriculum Level 2 and starts work on Level 3. Students are guided through the Additive Stages (stages 5-6) of the Number Framework. Each chapter is based on a strand of the New Zealand Mathematics and Statistics Curriculum document. The Number and Algebra strand has been allocated 5 chapters (60 pages) to adequately cover all the numeracy strategies currently being taught in primary schools. A revision test is provided at the end of each chapter. 'Dragon Maths 3' features instruction boxes, worked examples and a full set of answers (removable) to help students work independently of the teacher. The best use of this resource is as a classwork/homework book after new maths ideas have been introduced and the class has done some practice with teacher guidance. It can also be used as a revision resource before national standards tests or as a catch-up text for students who have missed school or need to fill gaps in their maths knowledge. Students working on this resource will find the write-on format saves them copying time. The instruction boxes and worked examples reinforce classroom learning and help parents to become effective 'home-teachers' as they can now assist their child using current maths strategies instead of older methods.The removable answers (perforated pages) allow the student or parent to mark the completed work, or the teacher may choose to hold the answers in the classroom for a more formal marking/revision session. Chapters: 1 – Adding and Subtracting 2 – Multiplying and Dividing 3 – Fractions 4 – Decimals 5 – Algebra 6 – Measurement 7 – Geometry 8 – Statistics ...Show more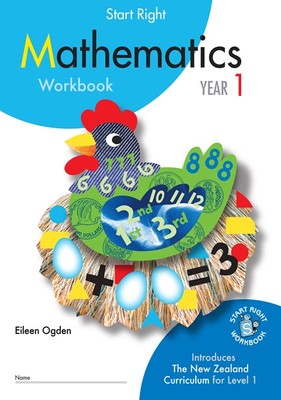 $24.95
NZD
Category: Maths | Series: Start Right Workbook
This workbook introduces Level One Mathematics and Statistics from The New Zealand Curriculum, and supports learning for Mathematics National Standards. It will suit 5 and 6-year old students. It is divided into Number and Algebra, Geometry and Measurement and Statistics. Features easy to follow brief, clear explanations, worked examples and plenty of exercises and puzzles with answers in the back of the book. Footers on each page indicate the curriculum objectove being covered. ...Show more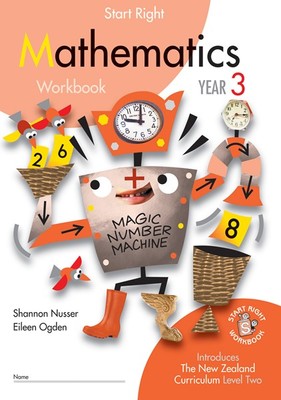 $24.95
NZD
Category: Maths | Series: Start Right Workbook
This workbook introduces Level Two of The New Zealand Curriculum, Mathematics and Statistics and supports learning for the Mathematics National Standards. It will suit 7-year-old and 8-year old students. It is divided into Number and Algebra, Geometry and Measurement and Statistics. Features easy to fol low, brief, clear explanations, worked examples and plenty of exercises and puzzles with answers in the back of the book. Footers on each page indicate the curriculum objective being covered. ...Show more