$19.99
NZD
Category: NZ Board & Cloth Books
Cats from different countries do strange and exotic things, but this ordinary cat likes to hide in boxes. First published in 1973, this book is a classic.
$15.99
NZD
Category: NZ Board & Cloth Books
This board book edition of Lynley Dodd's beloved rhyming story about a girl who wishes she had a more exciting pet is perfect for little hands. 'But just for once it might be fun if you changed from dog,' she said. 'To something HUGE or something FIERCE or something ODD instead.' When Susie Fogg takes h er dog for a walk, she dreams of having a more exciting pet. What if Sam were a dragon in a wagon? First published in 1988, with Lynley Dodd's famed bouncy rhymes and delightfully expressive animal illustrations, this robust board book edition is perfect for reading with babies and toddlers. ...Show more
$12.99
NZD
Category: NZ Board & Cloth Books
This beautiful, brightly illustrated board book introduces babies to animals both in English and in Maori. From back yards and farms to the wildness and forests of Aotearoa, these vibrant pictures are the perfect introduction to animals for Kiwi babies. This simple and eye-catching book, with essential words in English and Maori, will delight our littlest learners. ...Show more
Mihi
by Gavin Bishop
$17.99
NZD
Category: NZ Board & Cloth Books
Board book. This beautiful baby book introduces ideas of me and my place in the world in the shape of a simple mihi or pepeha. Mihi / mihimihi / pepeha: introducing yourself and making connections to other people and places. Mihi is a simple book to share with babies and talk about their whānau and pl ace in the world. Repeating colours and shapes show the connections between waka, mountain, iwi through to mama, papa and the baby reader. This book is an introduction for children of any age to their own pepeha—and to the idea of a pepeha. ...Show more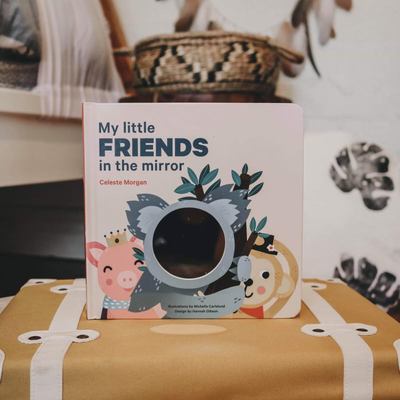 $21.00
NZD
Category: NZ Board & Cloth Books
My Little Friends in the Mirror is a fun and interactive mirror book for babies that encourages play with their favourite friend – their own reflection! Babies don't recognize their own reflection until they are around 2 years old, so a mirror becomes an ever-entertaining playmate who is also great for learning and development. This is a tough board book with non-glass mirrors, designed to withstand baby drool and toddler tantrums. With a mirror on every face, you and baby can roar, snuffle and chuckle along with fun animal characters - some adults find it just as fun as the baby! ...Show more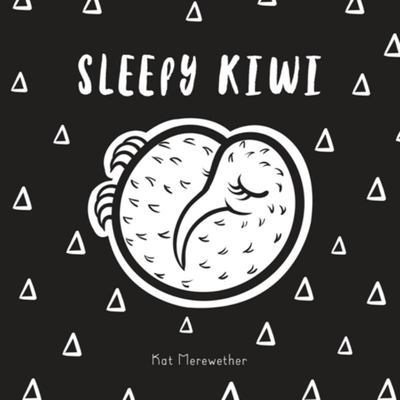 $19.99
NZD
Category: NZ Board & Cloth Books
Science shows that baby's eyes are drawn to strong contrasting colours. This black and white book with solid, friendly graphics is designed especially for newborns and infants. Kiwi are a very special and rare nocturnal bird, native to New Zealand. The perfect character to juxtapose the erratic sleep pa tterns of a newborn baby. * From #1 Best Selling New Zealand author and illustrator of the Kuwi the Kiwi series of books. * A newborn baby sees only in black and white and shades of grey. Nerve cells in their retina and brain that control vision are not fully developed. the simple graphics and solid black and white are ideal for this stage of development. * Encourages the practice of reading to your child from birth. The book is a large, thick board book, matte laminated for a soft, cleanable finish. Created entirely in a black and white modern illustration style. ...Show more
$15.99
NZD
Category: NZ Board & Cloth Books
A brilliant and fun counting book from the creator of the bestselling Hairy Maclary, now available in durable board book format! In the Manglemunching Forest there's a Nickle Nackle tree, Growing Nickle Nackle berries that are red as red can be. And that's not all that's nestling on the twisty branches of this laden tree. Count up some fabulous Lynley Dodd creations, such as one Ballyhoo bird, kicking up a din and two squawking Scritchet birds with legs so twiggy thin, to nine friendly Natter birds, building nice new nests to ten fussy Fissick birds in yellow feathered vests. A wonderfully funny counting book to read aloud with babies and young children. Age 0+ ...Show more

$15.99
NZD
Category: NZ Board & Cloth Books
Let's go down to the sea this summery Saturday morning, down the wiggly track, scattering shells and leaping logs! First the dogs chase the cat, next they chase a boy on a rattly bike - then the wild geese chase them...Margaret Mahy's witty story, exuberantly illustrated by Selina Young, will delight re aders, young and old. ...Show more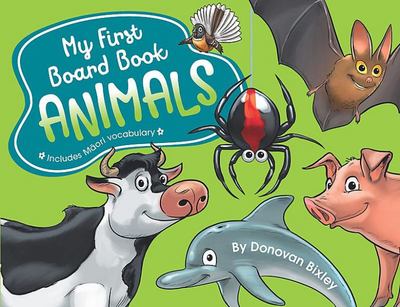 $16.99
NZD
Category: NZ Board & Cloth Books | Series: My First Board Book
A wonderfully illustrated Donovan Bixley board book for learning animal names in both English and Maori. Featuring cow (kau), horse (hoiho) and sheep (heihei), but also bat (pekapeka), gecko (moko papa) and morepork (ruru). Perfect for Kiwi kids.
$17.99
NZD
Category: NZ Board & Cloth Books
"This is all about as good as it gets for truck-obsessed preschoolers." -- The Horn Book (starred review) From the huge crane with a swinging ball (crack! ) to the toothy jaws that ram the walls (thwack! ), this rambunctious demolition, reverberating with sound words, is guaranteed to have small kids ra pt. Bright spreads showcase the gargantuan machines in all their glory. ...Show more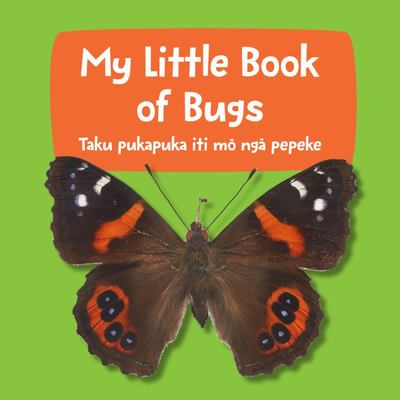 $19.99
NZD
Category: NZ Board & Cloth Books
A beautiful board book for New Zealand babies and their Whanau, featuring amazing photos of bugs in the Te Papa collection. In both English and te reo Maori, it is a perfect gift for any baby and will be well treasured.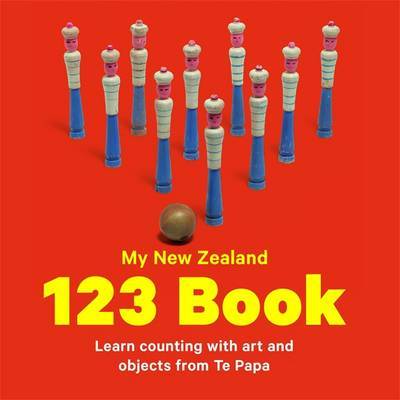 $19.99
NZD
Category: NZ Board & Cloth Books | Series: My New Zealand...
Learn numbers - from one to one million! - with amazing art and objects from Te Papa, and fun rhyming text in this gorgeous board book. Collect all three in this inspiring new series - My New Zealand ABC Book, My New Zealand 123 Book and My New Zealand Colours Book - developed by Te Papa's own curators and educators. ...Show more