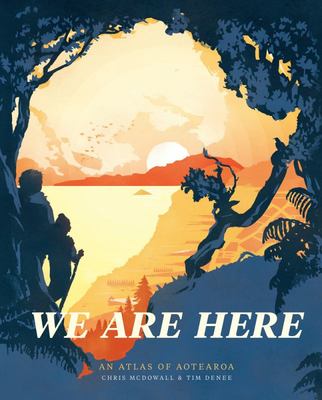 $70.00
NZD
Category: NZ Non-Fiction
An extraordinary visual data book like no other. Clustered yet scattered, we New Zealanders live across the country's physical landscapes, experiencing its varied weather and environments. We co-create its political, economic and social systems on a daily basis. Each of us has a particular view of Aotea roa, yet nobody comprehends the whole. This book's sets of maps and graphics help New Zealanders make sense of their country, to grasp the scale, diversity and intricacies of Aotearoa, and to experience feelings of connection to land, to place, to this time in our history, and to one another. By making data visible, each graphic reveals insights about Aotearoa. They answer a range of questions: Who visits us? How were these lands formed? Where do we live and work? How equal are we? How do we hurt ourselves? Where do our cats go to at night? This compelling mixture of charts, graphs, diagrams, maps and illustrations is functional, beautiful, insightful and enlightening. It tells us where we are, here, in 2018. Essays by some of New Zealand's best thinkers complete the package. ...Show more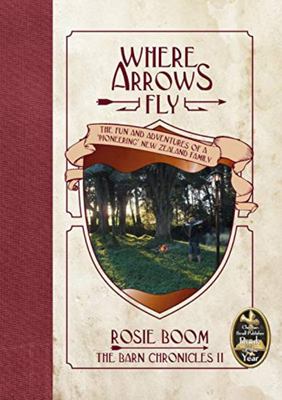 $19.95
NZD
Category: NZ Non-Fiction | Series: The Barn Chronicles
Where Arrows Fly is the sequel to Where Lions Roar at Night and is the second book in The Barn Chronicles series by New Zealand author Rosie Boom. Read about the continuing adventures of the Boom family and the everyday joys and challenges of the 'simple life'. As eleven year-old Milly and her family be gin their second year of living in the ninety-year-old barn, Milly has never been happier. While Dad and Mum are busy building the new family home, the children are messing about on the land. Their days are full of adventures - horse riding, camping in Lantern Waste, making huts, canoeing and swimming in the river, archery ...and all the while, Milly's menagerie of animals continues to grow. But one thing is missing. Milly dreams of milking her very own cow. However when the time finally comes, Milly discovers that training a house cow is not as easy as she thought it would be... ...Show more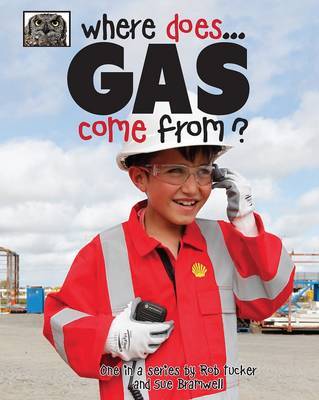 $17.99
NZD
Category: NZ Non-Fiction | Series: Where does
This book intrduces young Harper Huta, a Maori lad who is used to a life closer to natural elements, to the extraction of gas from the Earth. Suitable for readers aged 7-11.
$24.95
NZD
Category: NZ Non-Fiction | Series: The Barn Chronicles
Where the Crickets Sing by Rosie Boom is a warm-hearted, engaging book for the whole family to enjoy. The third book in the multi-award-winning series, The Barn Chronicles, it invites readers to join the Boom family in another year of homesteading in rural New Zealand. Going on the pony trek to the beac h is a dream come true for twelve-year-old Milly - trekking over high hills, swimming Peony in the sea, galloping along the beach. But when tragedy strikes, the excitement turns to tears. Adventures, dramas, laughter and some tears are all part of the rich tapestry of the Boom family's third year of living in their ninety-year-old barn. Milly's days are full to the brim as she cares for her animals, milks her cow, enjoys adventures with her brothers and sisters, and helps Mum and Dad build the new family home. She is as happy as a cricket. But that doesn't stop her lying awake at night, dreaming of hitching Peony to a wagon, climbing into the high wagon seat and picking up the reins... ...Show more
$24.95
NZD
Category: NZ Non-Fiction | Series: The Barn Chronicles
As the Boom family begins a fourth year of living in their ninety-three-year-old barn, a terrible drought has Northland in its grip. The land turns brown, the Great River of Narnia falls, and the animals begin to suffer. As the relentless drought continues, thirteen-year-old Milly begins to think the ra ins will never come. But meanwhile there is a homestead to be finished and adventures to be had. There are calves to rear, gardens to plant and endless firewood to be collected. When the drought finally breaks and the river rises again, The Ruins have been transformed into a home crafted with love, blood, sweat and tears. Milly can hardly wait to move in. The time has come to leave the barn and begin a whole new adventure... Where the River Rises is the fourth and final book in the award-winning series The Barn Chronicles. ...Show more
$26.00
NZD
Category: NZ Non-Fiction | Series: Which...?
This new re-written edition of the best-selling New Zealand classic Which Native Tree? now includes comprehensive ecological information on the tree and its environment. As well as the known uses of each tree, from food and medicine, to dyes, perfume, honey, bootlaces, fire-making and timber it also exp lains how to grow each tree in your own garden. It also identifies the insect and bird life to look for in each tree and includes details on the origins of Maori names. Use Andrew Crowe's unique leaf key to confidently identify common New Zealand native trees. Colour photographs of leaves and associated creatures, graphics giving tree shape and height, tree distribution maps and ID checklists listing distinguishing features are all helpful tools to identify New Zealand's native trees. ...Show more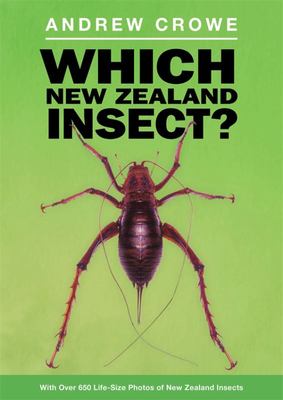 $35.00
NZD
Category: NZ Non-Fiction | Series: Which...?
Ninety percent of New Zealand's insects are unique. Many of these little-known creatures play an important part in our ecology. This book is both a field guide and a gallery, displaying the variety and beauty of an often-overlooked side of New Zealand's wildlife. Ideal for children, trampers, mountainee rs and conservation workers. Packed with over 650 colour photographs it covers native and introduced insects of the home, garden and farm, forest, mountains, streams and lakes. Includes common and rare butterflies, brightly coloured day-flying moths, spectacular weta, alpine grasshoppers, cicadas, plus much more. Andrew Crowe has written over 30 nature books covering seashells, insects, birds and other animals and plants. He is eight times a finalist and twice a winner of New Zealand book awards. ...Show more

$8.99
NZD
$14.99
(40% off)
Category: NZ Natural History
A picture book for 3-6-year-olds, Whose Beak is This? lets children guess the identity of iconic New Zealand birds from the pictures of their beaks, while finding out some facts about the birds along the way. This fun approach introduces an important science concept about adaptation - birds' beaks are a very obvious adaptation to the kind of food they eat. Being encouraged to look closely at the pictures teaches observation skills and helps children realise how diverse bird species are. ...Show more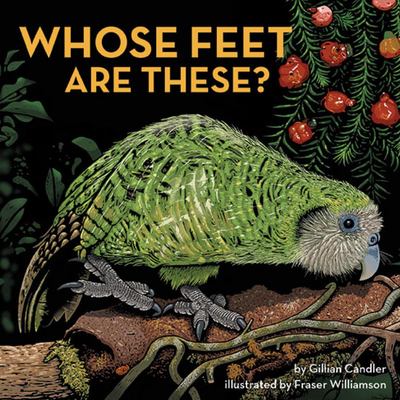 $8.99
NZD
$14.99
(40% off)
Category: NZ Natural History | Series: Whose?
Following on from the acclaimed Whose Beak is This?, author Gillian Candler and illustrator Fraser Williamson turn to looking at feet. In Whose Feet are These?, New Zealand native animals including birds, reptiles, an insect, a mammal and more reveal their feet for children to guess their identity. Whil e having fun guessing whose feet belong to whom, young children will learn an important science concept about adaptation - that animals' feet are adapted to their different habitats and lifestyles. Being encouraged to look closely at the pictures teaches observation skills and helps children discover how diverse our native animals are. ...Show more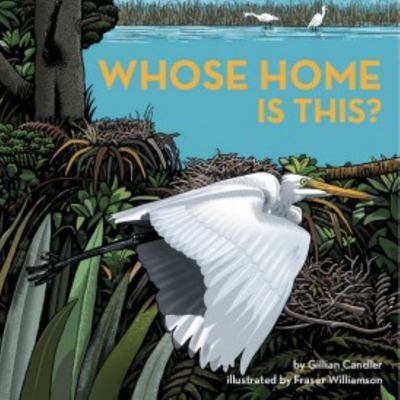 $15.00
NZD
$25.00
(40% off)
Category: NZ Natural History
Following on from the acclaimed Whose Beak is This? and Whose Feet are These?, author Gillian Candler and illustrator Fraser Williamson turn to looking at homes. Whose Home is This? includes native birds and sea creatures, such as the yellow-eyed penguin, octopus and crabs. While having fun guessing whi ch native animal lives in the different homes or habitats pictured, young children will learn how animals have different strategies for keeping themselves (and their young) safe. Being encouraged to look closely at the pictures teaches observation skills and children will start to learn more about what makes each animal unique. ...Show more

$14.99
NZD
Category: NZ Natural History
Following on from the acclaimed Whose Beak is This? and Whose Feet are These?, author Gillian Candler and illustrator Fraser Williamson turn to looking at homes. Whose Home is This? includes native birds and sea creatures, such as the yellow-eyed penguin, octopus and crabs. While having fun guessing wh ich native animal lives in the different homes or habitats pictured, young children will learn how animals have different strategies for keeping themselves (and their young) safe. Being encouraged to look closely at the pictures teaches observation skills and children will start to learn more about what makes each animal unique. ...Show more