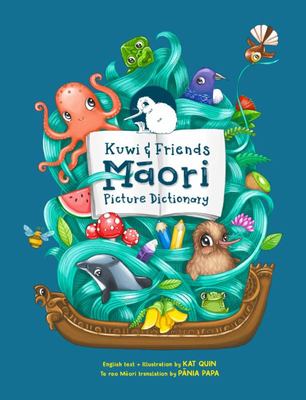 $34.99
NZD
Category: Dictionaries
Beginners Māori Language Picture Dictionary, for the Whole Family. From the #1 bestselling and award-winning author and illustrator of the Kuwi the Kiwi series, Kat Merewether, comes a large scale, stunningly illustrated visual dictionary. Full of over 1000 basic words in te reo Māori and English, perfe ct for every New Zealander.  A fun, easy-to-use resource for those wanting to discover, learn and use everyday words in te reo Maori. The illustrations are designed to help with comprehension, particularly for younger learners. Visual cues can assist with retention of language, to recall spoken and written words.  68 fully illustrated pages, in a large format (265 x 366mm), in vibrant full colour, with over 1000 te reo Maori words, translated into English. Embedded with gorgeous Kuwi the kiwi (and friends) illustrations.  Designed for everyday use, in the whanau (family), kura (school) and for all New Zealanders. Ages 0-100+. A portion of each sale goes to charity Kiwis for Kiwi. ...Show more
$54.99
NZD
Category: Reference
Change the way you see the world with a groundbreaking visual approach to the wonders of our planet. From Viking raiders and Samurai warriors to robotics and chemical reactions, amazing animals, the human body, the marvels of history, and more are visualized in incredible detail, inside and out, providi ng a mind-blowing introduction to every aspect of human knowledge. You'll find yourself utterly absorbed as complex subjects become clear through engaging explanations, incredible illustrations, phenomenal photographs and jaw-dropping 3D images. This fully updated edition of Knowledge Encyclopediawill continue to fascinate young readers with its microscopic detail and amazing facts on tons of topics. Explore the universe, from the inside of an atom to enormous galaxies, then discover the explosive science behind a fireworks display. Take a look at what makes the human brain so special and find out how our bodies cells make energy. Journey through history from the earliest life forms to our hairiest ancestors and then right up to our world today. ...Show more
$32.99
NZD
Category: Hardback Books | Series: The Secret Lives of.....
If you thought merpeople were strictly imaginary, think again.   Anatomy, evolution, life cycle, magical properties - discover just how much you didn't know about merpeople in this encyclopedic volume. Dive into the life's work of famed merologist Professor Tola in this beautiful, fully-illustrated book . A scientific bestiary with all the pertinent info on these fictional creatures in the style of a nonfiction animal book All gorgeously bound up in an oversized volume that will look great on your bookshelf.   ...Show more
$47.99
NZD
Category: History and Pre-History
Transform your view of history with this groundbreaking visual encyclopedia of the events of the past. From the disciplined armies of ancient Rome and the lives of ferocious samurai warriors to World War II and the rise of modern robotics, historical events are visualized in incredible detail, providing a fascinating introduction to the world through time. You'll find yourself transported into the past through engaging explanations, incredible illustrations, phenomenal photographs, and jaw-dropping computer-generated images. This new book in the Knowledge Encyclopedia series will inspire young readers with its vivid depictions of history and its comprehensive and authoritative information on a huge range of topics. Highly detailed CGI images bring subjects to life, allowing readers to peer inside ancient buildings, marvel at elaborate outfits, and become transported into the battles of history. Journey through history from our earliest ancestors right up to the world we live in today. ...Show more
$70.00
NZD
Category: General Non-Fiction
Science and technology, nature, geography, culture, sports and hobbies, and history all combine in this mind-blowing visual encyclopedia. From incredible insects and musical instruments to spacecraft and prehistoric life, and from art and earthquakes to American football and dogs, Picturepedia gives you a world of information on every page. Did you know that more than half of the human body's weight is water, and that a koi carp can live for more than 200 years? Or how about there being more than 20,000 islands in the Pacific Ocean, or that Turkey eats the most bread, with each person getting through 104.6 kg (230.5 lb) of it per year? First published in 2015, Picturepedia has been revamped into a more thrilling edition that will take you on a visual odyssey. This brilliant book is crammed with stunning photographs, gripping information, and explanatory diagrams that allow for fascinating discoveries. New and updated and jam-packed with thousands of pictures and fascinating facts about science, nature, culture, sports, and history, Picturepedia is the ultimate visual encyclopedia. ...Show more
$19.99
NZD
Category: Reference
"A beautifully illustrated picture book featuring 101 full-colour animal illustrations, each with its very own collective noun - from the 2017 CBCA shortlisted author/illustrator of A-Z of Endangered Animals. A tribe of kiwis? A smack of jellyfish? A wisdom of wombats? Come along an illustrated journey through the animal kingdom with Tasmanian artist Jennifer Cossins. Featuring 101 full-colour animal illustrations, each with its very own collective noun, as well as a brief history of collective nouns, this book will delight children and adults alike."--bookdepository.com. ...Show more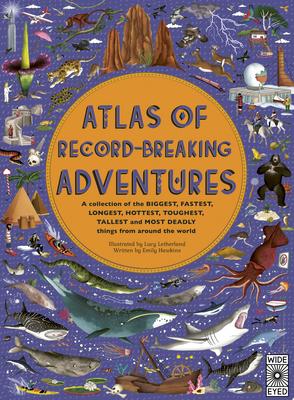 $39.99
NZD
Category: Atlases | Series: Atlas Of:
Come face-to-face with the biggest, toughest, oldest and most unmissable wonders on Earth in Atlas of Record-Breaking Adventures, the sixth and latest in the bestselling series.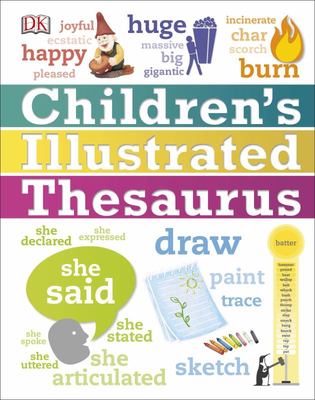 $38.00
NZD
Category: Reference
The ideal reference book for young readers and writers, DK's Children's Illustrated Thesaurus has everything a child needs to develop their vocabulary. Never be lost for words, with synonyms and antonyms for around four thousand entries. Each entry is supported by a definition and example sentence to he lp boost a child's confidence in using and choosing words. Plus, attractive "word features" illustrate a range of synonyms or give additional words a child can use when writing about a subject - from types of accommodation to colour shades and animal families. With its fresh and fun design, the Children's Illustrated Thesaurus will inspire children to build a rich and vibrant vocabulary. ...Show more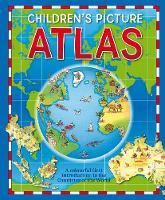 $19.99
NZD
Category: Atlases
Designed to introduce young children to the world in which we live, this is a fun and informative introduction to the countries of the world. Twenty-one pictorial maps, each accompanied by fact-packed accessible text, show landforms and cultural, industrial and agricultural features for each country. Ch ildren will love poring over these busy maps and searching the detailed pictures to discover more about each country. ...Show more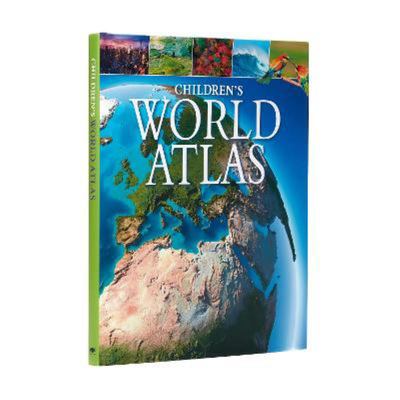 $24.99
NZD
Category: Atlases
This beautifully illustrated atlas is a celebration of our extraordinary, interconnected planet, specially designed for young readers. From Afghanistan to Zimbabwe, children can explore all corners of the world through perfectly rendered, clearly annotated maps.
$30.00
NZD
Category: Atlases
Our house is on fire - it's time to wake up to the climate crisis facing planet Earth before it's too late. Which countries generate the highest CO2 emissions? Which coastal cities are most vulnerable to rising sea levels? What will the polar ice caps look like in 10 years' time? Which countries have su ccessfully harnessed renewable energy sources? This unique graphic altas tells you everything you need to know about the current climate emergency, and what we can do to turn things around. Packed with facts and figures and more than 30 dynamic maps, Climate Emergency Atlas is clear and easy to understand, making it the perfect reference guide for all young climate activists. ...Show more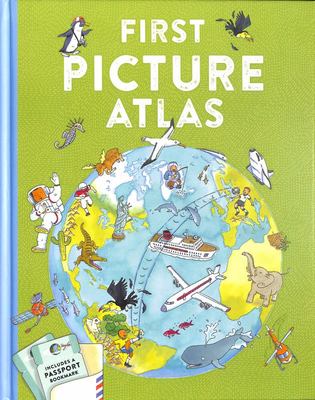 $29.99
NZD
Category: Atlases
Take an exciting journey around the world and explore every country on Earth. Beautifully illustrated by award-winning Anthony Lewis, the colourful maps, plus lively and informative text make this an essential atlas for younger readers. Jet off to South America and discover the Amazon rainforest, journ ey to Scandinavia and visit a mermaid, then wrap up warm as you head south to Antarctica - the coldest place on Earth. Pictograms show where to find animals and places of interest: can you find the sunbathing walrus in Alaska? And the Tasmanian devil in Australia? The passport bookmark means you won't lose your place as you travel the globe. This atlas is the perfect first geography reference book for both home and school. ...Show more