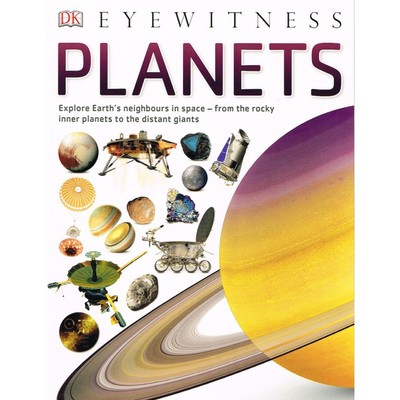 $15.99
NZD
Category: Space
See the eight planets that orbit the Sun. Find out about the spacecraft that have journeyed to distant worlds. Discover moons, asteroids, dwarf planets, comets, and other Solar System bodies. What will you Eyewitness next? Visually stunning and packed full of facts, DK Eyewitness books are perfect for s chool projects and home learning. ...Show more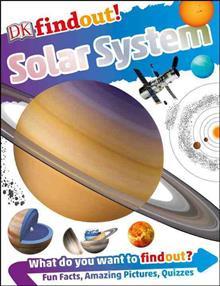 $15.99
NZD
Category: Space | Series: DK Find Out!
From the creators of DK findout!, the free online resource for kids, comes an exciting new book series full of amazing images, incredible quizzes, and cutting-edge information kids need to know. The DK findout! series helps kids become experts on their favorite subjects from dinosaurs to space. Learning doesn't get more fun.Bring space down to earth with DK findout! Solar System. Take a trip across Mars, find out what the weather is like on Jupiter, and visit the International Space Station. See how the planets move, learn about the asteroid belt, and read up on the history of astronomy. Discover once and for all why Pluto is a dwarf planet.Pull out the special cover flaps to see extra information about space and take a quiz about everything in the book.Filled with vivid photography and out-of-this-world facts, DK findout! Solar System makes space fun and accessible for any budding astronomer or astronaut.Learn more about the solar system or anything else! at www.dkfindout.com, a free educational website for kids to have fun with information and to expand their knowledge. ...Show more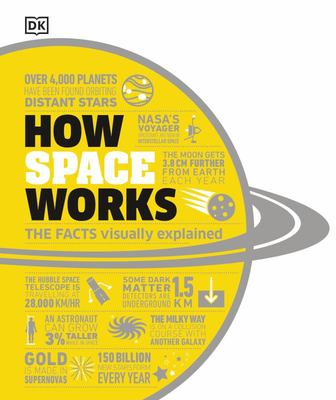 $40.00
NZD
Category: Space
The clearest, most visual guide to space and the Universe for complete beginners to astronomy. Have you ever asked yourself how big the Universe is, how far it is to the nearest star, or what came before the Big Bang? Then this is the book for you. How Space Works shows you the different types of object in the Universe (so you'll know your pulsars from your quasars) and introduces you to some of the strangest and most wonderful things known to science, including dark matter particles and ancient white dwarf stars that are almost as old as the Universe itself. The book starts with an explanation of our view of the Universe from Earth, then takes a tour of the Solar System, the stars and galaxies, and the furthest reaches of space. The last chapter looks at the technology we use to explore the Universe, from the International Space Station to Mars rovers and the new and revolutionary reusable rockets. Illustrated with bold graphics and step-by-step artworks - and peppered with bite-sized factoids and question-and- answer features - this is the perfect introduction to astronomy and space exploration. ...Show more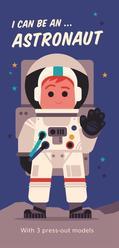 $22.99
NZD
Category: Space
Blast off to the moon and discover what it takes to be an astronaut! Follow the story of astronauts preparing for their mission and experience a hands-on adventure with three easy-to-make models of an astronaut, a rocket and a moon buggy. With stylish graphic illustrations, this will inspire anyone that they can be an astronaut!   ...Show more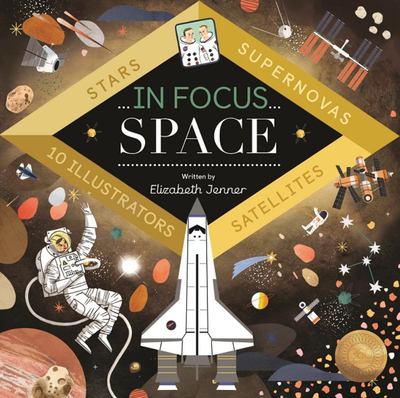 $32.99
NZD
Category: Space | Series: In Focus
Ten illustrators blast off into outer space to explore the mysteries of our solar system and the galaxies and stars beyond it. Learn about everything from the Big Bang to the Moon landing, find out what makes the day light and the night dark, and discover what it really takes to be an astronaut and what everyday life is like on the International Space Station. Open the super-size flaps and let your world expand... ...Show more
$16.99
NZD
Category: Pop Up, Novelty & Touch and Feel | Series: Peep Inside
This simple non-fiction book for very young children is filled with facts about space and the universe. Little children can lift the flaps and peek through the holes in the pages to find out lots about space: this interactive introduction to the subject is accurate, playful and approachable. Space is a "hot" topic at the moment and is a fascinating subject that can lead little minds to be more interested about science as a whole. ...Show more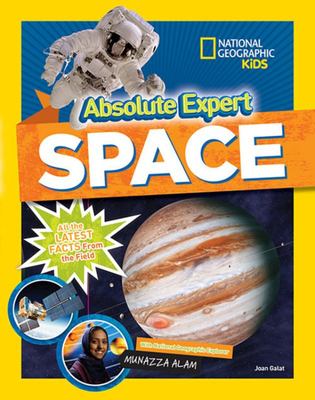 $35.00
NZD
Category: Space | Series: Nat Geo - Absolute Expert Ser.
Discover everything you've ever wanted to know about space in a stellar book for aspiring experts, featuring exclusive astronomical insights and info from National Geographic explorer and astrophysicist Munazza Alam! Ready to go on an out-of-this world adventure? Travel across the Milky Way and into new galaxies to explore every corner of space so YOU can become an absolute expert. Get up close to the sun and moon, asteroids and comets. Learn about the Oort Cloud, supernovas, black holes, and rockets and other spacecraft. Discover the incredible work of astronauts, astronomers, physicists, and other cool space scientists. On this journey across the universe, you'll make your way from our familiar home here on Earth to planets and solar systems that are many light years away. Rub elbows with the stars on this cosmic adventure complete with special features, sidebars, wacky trivia, and more. ...Show more
$44.99
NZD
Category: Space
A deep dive into the world of Ufology--the study and search for extraterrestrial life--with a fun, informative, humorous look at the history of this strange world of conspiracy. Throughout history people have witnessed a dizzying show of mysterious lights in the sky. Whether they are the devices of ali en interlopers or more mundane weather phenomena, they have spawned a legacy of government inquiries, secretive societies, and countless dedicated investigators. We call them "Unidentified Flying Objects," and they have claimed a prominent position in popular culture, enduring in part thanks to the legacy of researchers and persistently peculiar mysteries. ...Show more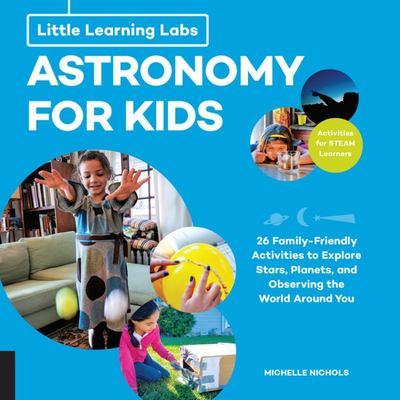 $19.99
NZD
Category: Space | Series: Little Learning Lab
Little Learning Labs: Astronomy for Kids teaches children the wonders of outer space with 26 hands-on activities that can be done at home with items found around the house. It's not easy to explain and understand what lies beyond the night sky. This curated collection of 26 projects from the bestselling Little Learning Labs: Astronomy Lab for Kids introduces children to the basics of outer space through 26 hands-on labs that can be completed with everyday items from around your house. It's the perfect resource for teachers, homeschool families, and community groups. Mini astronomers will learn about things such as the size and scale of planets using sandwich cookies and tennis balls, how to measure the speed of light with a flat candy bar and a microwave, how to make a simple telescope with magnifying glasses, and so much more. Kids of all ages and experience levels will love completing these hands-on labs with the guidance of adults. Why wait to introduce children to the expansive wonder of the skies, when Little Learning Labs: Astronomy Lab for Kids can put it within their reach today? ...Show more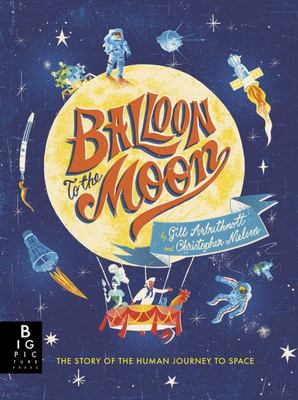 $22.99
NZD
Category: Space
Long before anyone had designed a rocket, the Montgolfier brothers w ere making hot air balloons. In October 1783, they became the first people to experience controlled flight. Balloon to the Moon starts there and leads to Neil Armstrong's 'small step' and beyond. But w hy stop there? Learn about the gr eat innovations of the past, then get ready for BLAST OFF into an unknow n but exciting future. ...Show more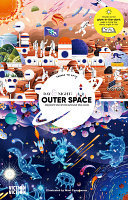 $34.99
NZD
Category: Space
What do 24 hours look like beyond our atmosphere, where the sun and stars can be seen at the same time? In this latest volume of VICTION-VICTION's best-selling Day & Night series, young readers are invited to explore the exciting possibilities of life in outer space by taking a closer look at what ( extra-)terrestrials get up to across two illustrated 1.4-meter long panoramas complete with key constellations. From interplanetary adventures on rockets and spaceships to satellites and space stations that teem with activities, this book offers a fun glimpse into the future through interesting facts, challenging puzzles, and compelling visuals that glow in the dark. ...Show more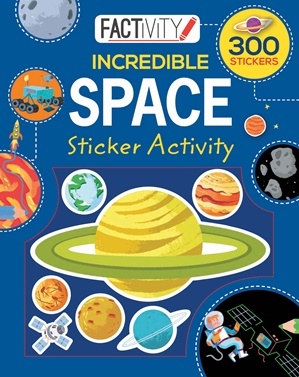 $13.99
NZD
Category: Sticker Books | Series: Factivity Balloon Stickers
Find out how INCREDIBLE our Solar System really is on an ACTIVITY-PACKED voyage into space... Learn awe-inspiring facts Doodle, draw and complete incredible activities With 300 colourful space stickers!