$29.99
NZD
Category: Board & Cloth Books
A gorgeous slipcase containing two bestselling favourites from the stellar picture book partnership of Julia Donaldson and Lydia Monks, creators of the What the Ladybird Heard series - the perfect gift!Join in the unicorn fun in Sugarlump and the Unicorn, a magical adventure about a lonely rocking horse who longs to see the world. Then visit the circus and help the poor mermaid find her way back to the freedom of her ocean home in The Singing Mermaid. These two much-loved favourites are brought together in a beautiful slipcase edition, making Sugarlump and the Unicorn and The Singing Mermaid Board Book Slipcase the perfect gift for young unicorn and mermaid fans! ...Show more
$34.99
NZD
Category: Slip Case and Special Editions
A stunning treasury of tales by Julia Donaldson and Axel Scheffler! Contains stories and illustrated activities from Stick Man, Scarecrow's Wedding, Zog and the Flying Doctors and Superworm.  
$39.99
NZD
Category: Slip Case and Special Editions
This lavish paperback edition of Lewis Carroll's much-loved classic Alice's Adventures in Wonderland, is packed full of amazing exclusive extra material about the history of the book and Lewis Carroll's relationship with Macmillan, his original publisher. Lewis Carroll's Alice has been enchanting child ren for over 150 years. A timeless heroine, Alice is quick-witted, determined and resourceful. In her extraordinary adventures she meets a series of unforgettable characters, from the bossy White Rabbit to the grinning Cheshire-Cat and the Mad Hatter, these characters are among the best loved, most iconic literary creations of all time. Illustrated throughout with John Tenniel's dream like original illustrations, coloured up by Harry Theaker and Diz Wallis. With foiled edges to the pages and a jacket, this luxurious edition of the classic book is perfect for all Alice fans. ...Show more
$21.99
NZD
Category: Slip Case and Special Editions | Series: Guess How Much I Love You
An elegant gift edition of the cherished classic, perfect for commemorating special moments with loved ones. When you love someone right up to the moon and back, what better way to tell them so than with a tender universal story that has touched hearts across generations? Now dressed in a stunning blush -coloured cover accentuated with delicate rose gold foil details, this beautiful volume is perfect for gifting and a true treasure to hold. ...Show more
$47.99
NZD
Category: Slip Case and Special Editions
A must-have guide to Harry Potter's Platform 9 ¾, packed with dazzling reproductions of props from the Harry Potter filmsEvery year on September first, young witches and wizards board the Hogwarts Express at Platform 9 ¾ and make the journey to Hogwarts School of Witchcraft and Wizardry.The first in a c ollectible new series, Harry Potter: Travel Magic: Platform 9 ¾: Artifacts from the Wizarding World contains over a dozen removable prop replicas from the Harry Potter films as well as stickers, postcards, and other stationery supplies.Inside, fans will learn all about Platform 9 ¾ and the Hogwarts Express, relive magical moments from the Harry Potter films, and delve into the behind-the-scenes magic that brought Harry Potter to life on the big screen.Inside readers will find: Over a dozen removable reproductions of props from the Harry Potter films, including Harry's Hogwarts Acceptance letter and supply list, Platform 9 ¾ ticket, Chocolate Frog box, and more Stickers, bookmarks, postcards, booklets, and other stationery supplies—all themed to Platform 9 ¾ and the Hogwarts Express Behind-the-scenes facts and insights about the Harry Potter films Stunning set photography and concept art ...Show more
$69.99
NZD
Category: Slip Case and Special Editions
Hold on to all of your hats at once for this special collection of Jon Klassen's celebrated hat trilogy. The bear's hat is gone, and he wants it back. A fish has stolen a hat; will he get away with it? Two turtles have found one hat, but the hat looks good on both of them. . . . Jon Klassen's deliciou sly deadpan hat tales continue to surprise and delight readers of all ages, and they are all now available in one impeccably designed boxed set along with a free frameable print. Included are: I Want My Hat BackThis Is Not My HatWe Found a Hat ...Show more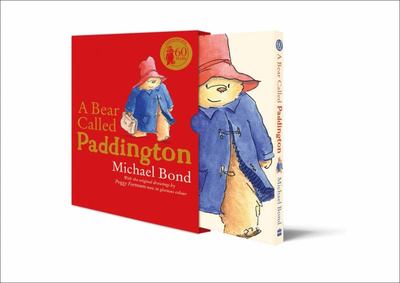 $45.00
NZD
Category: Slip Case and Special Editions
"Things are always happening to me. I'm that sort of bear."PADDINGTON Celebrate Paddington's 60th Anniversary with this exquisite gift edition. Unabridged and featuring beautiful colour drawings by the original illustrator, Peggy Fortnum, this is truly a book to be treasured. "A bear? On Paddington stat ion?" Mrs Brown looked at her husband in amazement. "Don't be silly, Henry. There can't be!" Paddington Bear had travelled all the way from Darkest Peru when the Brown family first met him on Paddington station. Since then their lives have never been quite the same... for ordinary things become quite extraordinary when a bear called Paddington is involved. ...Show more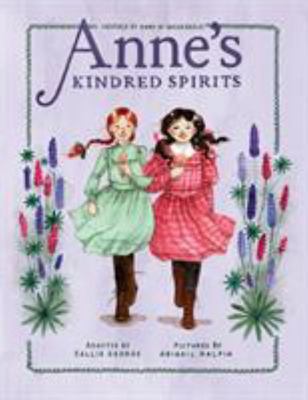 $0.00
NZD
Category: Slip Case and Special Editions | Series: An\Anne Chapter Book Ser.
Anne is nervous and excited to meet Diana, a neighbor girl who she just knows will be a kindred spirit. She's even more excited when she learns that she's invited to her very first picnic! Until Marilla's precious brooch goes missing and it looks like it's Anne's fault. That is, Marilla is upset and Ann e's picnic adventure is now in jeopardy. Ultimately, the misunderstanding with the brooch is resolved and Anne is able to go to the picnic. Anne and Diana's friendship blossoms and Anne's bond with Matthew and Marilla grows stronger. Lovingly adapted by Kallie George with beautiful nostalgic illustrations by Abigail Halpin, this series is perfect for fans of Anne, new and old. ...Show more
$39.99
NZD
Category: Slip Case and Special Editions
This beautiful commemorative picture book edition of the Caldecott Honor title Frog and Toad Are Friends is the perfect way to celebrate Frog and Toad's 50th anniversary This handsome edition features matte paper, remastered artwork, and a green ribbon book marker. It makes a lovely gift for collector s, fans of children's literature, and anyone and everyone who loves Frog and Toad First published in 1970, Frog and Toad Are Friends was the first of the four beloved Frog and Toad books. This special edition contains all of the original stories--from the story about going swimming, to finding lost buttons This lovely volume also includes seven pages of rarely seen bonus material, including archival photographs, sketches, pages from the original book dummy, the manuscript of the first story "Spring" (written in Lobel's cursive on lined notebook paper ), plus a biography of Arnold Lobel and how he was inspired to write the Frog and Toad stories. --Publishers Weekly ...Show more
$29.99
NZD
Category: Hardback Books | Series: Giraffes Can't Dance Ser.
An irresistible counting book, featuring favourite animals from the internationally bestselling story Giraffes Can't Dance. With bright, bold pictures and simple rhyming text, this tactile board book is perfect for preschoolers just starting to learn about numbers. Read it together and help them turn t he pages using the sturdy tabs on each page. With rocking rhinos, zippy zebras and flamenco-dancing flamingos, counting to ten has never been so much fun! ...Show more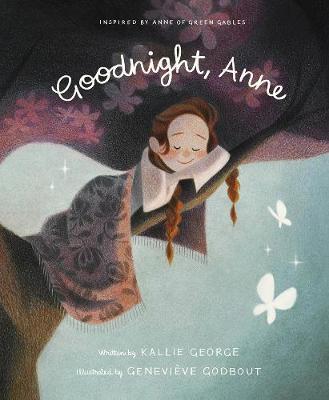 Goodnight, Anne
by Kallie George; Geneviève Godbout (Illustrator)
$0.00
NZD
Category: Slip Case and Special Editions
A beautiful bedtime picture book based on the best-selling Anne of Green Gables, introducing the irrepressible and beloved Anne to younger readers. It's time for Anne to go to bed, but not before she wishes goodnight to everyone and everything she loves Under the watchful eye of her adoptive mother Ma rilla, Anne has come to cherish life at Green Gables -- the dearest, loveliest spot in the world, and her true home. Every night before she goes to bed, she thinks of all the people and places she loves: her family, her bosom friend Diana, her splendid teacher Miss Stacy, beloved tree Snow Queen, the Lake of Shining Waters and the brilliant sky above. Anne even wishes goodnight -- or good riddance -- to pesky classmate Gilbert and nosy neighbor Mrs. Lynde. And through it all, Anne's imagination takes flight on a whimsical journey through Avonlea. This sweet and heartfelt picture book is a perfect read-aloud introduction to L.M. Montgomery's beloved Anne and will delight her brand-new fans and lifelong readers alike. ...Show more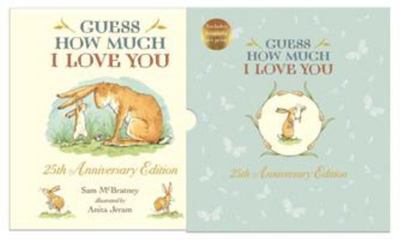 $39.99
NZD
Category: Slip Case and Special Editions
Celebrating an incredible 25 years of Guess How Much I Love You. A stunning slipcase edition of the original bestselling children's classic with a beautiful, special edition print. "I love you right up to the moon – AND BACK!" Sometimes, when you love someone very, very much, you want to find a way of describing just how much you treasure them. But, as Little Nutbrown Hare and Big Nutbrown Hare discover, love is not always an easy thing to measure! Since it's publication in 1994, children and parents worldwide have cherished the heartwarming tale of Little Nutbrown and Big Nutbrown Hare so much, that it has become one of the most enduring bedtime classics of our time. Now, Walker Books are celebrating with an exquisitely presented 25th anniversary slipcase edition, which features a beautiful classic hardback book - with the original timeless text and stunning illustrations - in addition to an exclusive high quality giclée art print of one of the most loved scenes. The perfect gift for Christmas, birthdays, christenings or for your loved one. ...Show more