$17.99
NZD
Category: Junior Fiction 5-9-year-olds | Series: Ninja Kid
Grandma has invented the COOLEST thing evera GLOVE that can bring toys to life! But when the glove is stolen, Nelson and Kenny have to find a way to get it back... before a CRAZY TOY ARMY takes over the WHOLE TOWN!  
$24.99
NZD
Category: Junior Fiction 5-9-year-olds | Series: Winnie-the-Pooh
'One day when Pooh Bear had nothing else to do, he thought he would do something, so he went round to Piglet's house to see what Piglet was doing.' This is the second classic children's story by A.A. Milne about Winnie-the-Pooh and his friends in the Hundred Acre Wood. In this volume Pooh meets the irre pressible Tigger for the first time, learns to play Poohsticks and sets a trap for a Heffalump. In this stunning edition of The House at Pooh Corner, A.A. Milne's classic characters are once again brought to life by E.H. Shepard's illustrations.Milne's classic children's stories - featuring Piglet, Eeyore, Christopher Robin and, of course, Pooh himself - are both heart-warming and funny, teaching lessons of friendship and reflecting the power of a child's imagination like no other story before or since. PWhether you're 5 or 55, Pooh is the bear for all ages.  ...Show more
$19.99
NZD
Category: Junior Fiction 5-9-year-olds
Can You Whistle, Johanna? is a funny, sensitive illustrated chapter book about two boys searching for a grandfather—there are plenty at the retirement home—and friendship across generations. It is an international award-winner and a classic in many Why doesn't Berra have a grandfather? And how can he g et one? There are plenty of old men at the retirement home, Ulf suggests. They go there together to find one—ideally one who eats pig's trotters, invites you to tea and can teach you to whistle. Can You Whistle, Johanna? is an international award-winner and classic in many countries by one of the world's great writers. ...Show more
$18.99
NZD
Category: Junior Fiction 5-9-year-olds | Series: Dog Man
A brand-new graphic novel series by Dav Pilkey, the internationally bestselling author and illustrator of the DOG MAN and CAPTAIN UNDERPANTS series. Welcome to the Cat Kid Comic Club, where Li'l Petey (LP), Flippy, and Molly introduce twenty-one rambunctious, funny, and talented baby frogs to the art of comic making. As the story unwinds with mishaps and hilarity, readers get to see the progress, mistakes, and improvements that come with practice and persistence. Squid Kid and Katydid, Baby Frog Squad, Gorilla Cheese Sandwich, and Birds Flowers Tree: A Haiku Photo Comic are just some of the mini-comics that are included as stories-within-the-story, each done in a different style, utilizing humour and drama, prose and poetry, illustrated in different media including acrylics, pastels, coloured pencils, felt-tip markers, clay, hand-made cardboard sculptures, photographs, pipe cleaners, construction paper collages, and cookies. Readers of all ages will be inspired to dream up their own stories and unleash their own creativity as they dive into this pioneering graphic novel adventure from Dav Pilkey and his heartfelt, humorous, and amazing cast of characters in the Cat Kid Comic Club. ...Show more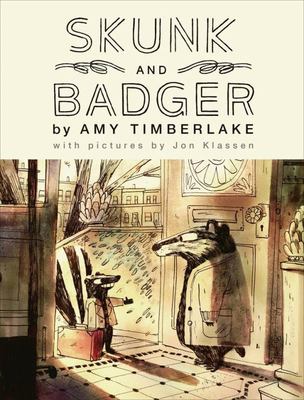 $24.99
NZD
Category: Junior Fiction 5-9-year-olds | Series: Skunk and Badger
When friendly, free-spirited Skunk moves in with solitary rock-scientist Badger, both are forever changed in this whimsical, emotionally rich story from Newbery Honor author Amy Timberlake, illustrated in full-colour and black-and-white pictures by Caldecott Medalist Jon Klassen (This Is Not My Hat, Pax ).   No one wants a skunk. They are unwelcome on front stoops. They should not linger in Rock Rooms. Skunks should never, ever be allowed to move in. But Skunk is Badger's new roommate, and there is nothing Badger, who prefers to be left alone to do Important Rock Work, can do about it. Skunk ploughs into Badger's life, and Badger's life is upended. Tails are flipped. The wrong animal is sprayed. And why-oh-why are there so many chickens? ...Show more
$14.99
NZD
Category: Junior Fiction 5-9-year-olds | Series: Rabbit and Bear
Gorgeously illustrated and with a classic feel, this is a brilliantly funny story of a rabbit and a bear who discover that things are always better when they're shared with a friend. Ideal for readers moving on from picture books. 'A perfect animal double-act.' (The Times, Book of the Week) Rabbit is surprised: some of the trees in the valley seem to be flying south for the winter. His friend Bear is sure that trees can't fly. Then there's a loud CRUNCH! from Very Near By. It sounds like the world's largest rabbit, eating the world's largest carrot. There's a new creature in Rabbit and Bear's valley, and he's trying to Change Everything. From novelist and playwright Julian Gough, and the winner of the Roald Dahl Funny Prize, Jim Field, this is a tale of friendship, Progess, and all kinds of getting muddy. 'Rabbit's Bad Habits is a breath of fresh air in children's fiction, a laugh-out-loud story of rabbit and wolf and bear, of avalanches and snowmen. The sort of story that makes you want to send your children to bed early, so you can read it to them.' Neil Gaiman ...Show more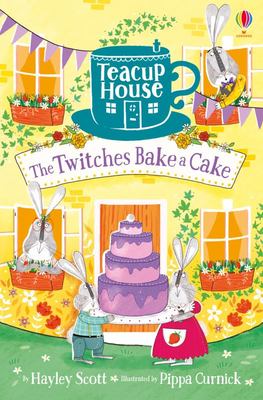 $14.99
NZD
Category: Junior Fiction 5-9-year-olds | Series: Teacup House
Stevie¿s mum is having a party, so she¿s baked a delicious cake for all the guests. Stevie¿s tiny toy rabbits, Silver and Fig Twitch, would love a taste of its yummy purple icing. How will they get their paws on some? It¿s time for an adventure outside the Teacup House!
$24.99
NZD
Category: Junior Fiction 5-9-year-olds | Series: Winnie-the-pooh - Classic Editions
Curl up with A. A. Milne's classic book of poetry for children, When We Were Very Young. This is the first volume of rhymes written especially for children by Milne - as popular now as when they were first written. Featuring E. H. Shepard's original illustrations, this collection is a heart-warming and funny introduction to children's poetry, offering the same sense of humour, imagination and whimsy that we've come to expect from Milne's favourite books about Winnie-the-Pooh, that Bear of Very Little Brain.  ...Show more
$14.99
NZD
Category: NZ Junior Fiction 5-9-year-olds | Series: Miniwings
Sshh... NOT for parents! You can keep a SECRET, right? Clara and I have a herd of tiny, talking, whizzie-whooshy, flying horsesand theyre REAL! Its true. Those naughty Miniwings get us into so much TROUBLE. Who would have thought a computer game could lead to such classroom CHAOS!
$32.99
NZD
Category: Junior Fiction 5-9-year-olds | Series: Billie B Brown
Meet Billie B Brown … Billie can be many things. She can be bubbly, brave and brilliant And Billie is always the best friend ever! Celebrate all the best things about Billie B Brown with this gorgeous hardback collectible edition - featuring five of Billie's favourite stories in glorious colour. Volum e #1 also available. Billie's Best Volume #2 includes: ·The Grumpy Neighbour (new!) ·The Night Fright ·The Extra-special Helper ·The Soccer Star ·The Copycat Kid ...Show more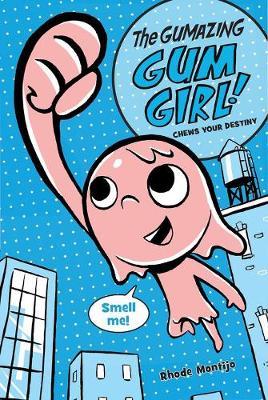 $18.99
NZD
Category: Junior Fiction 5-9-year-olds | Series: Gum Girl
Gabby Gomez loves bubble gum. She'll chew it anywhere, but one day she blows a bubble that's too big and accidentally transforms herself into a sticky, bubble-gummy superhero! With her new powers she can stretch to catch runaway criminals and stick to walls unseen.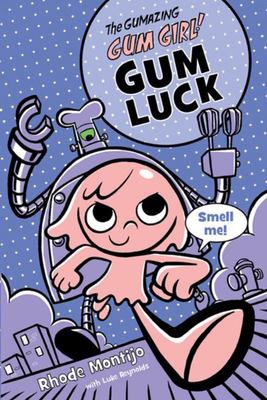 $19.99
NZD
Category: Junior Fiction 5-9-year-olds | Series: The Gumazing Gum Girl!
Gabby Gomez knows she needs to come clean with her family about her secret identity. But just as she works up the courage, trouble pops up again as Ninja-Rina twirls onto the scene Has Gum Girl finally met her match? Is Ninja-Rina tutu much to handle? Buckle up for more flavored-packed action as Gum Gi rl takes on someone a little more her size. It's another exciting adventure with the ever-elastic, super-stretchy superhero, Gum Girl. ...Show more