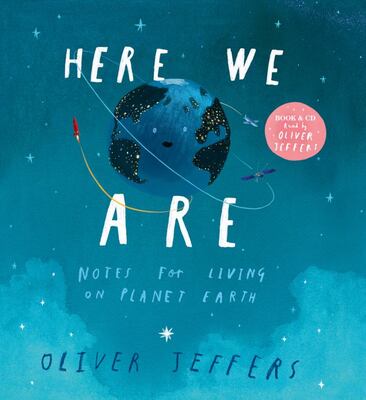 $24.99
NZD
Category: Books with CDs
This book and CD edition of the exquisite and thought-provoking Here We Are comes with heartfelt, award-winning audio, read by the internationally best-selling creator himself, Oliver Jeffers! Well, hello. And welcome to this Planet. We call it Earth. Our world can be a bewildering place, especially if you've only just got here. Your head will be filled with questions, so let's explore what makes our planet and how we live on it. From land and sky, to people and time, these notes can be your guide and start you on your journey. And you'll figure lots of things out for yourself. Just remember to leave notes for everyone else… Some things about our planet are pretty complicated, but things can be simple, too: you've just got to be kind. Here We Are is the utterly heartfelt new book from Oliver Jeffers. We're glad you found it. "An optimistic snapshot of contemporary life, this heartfelt hug of a book ought to become a classic" The Guardian ...Show more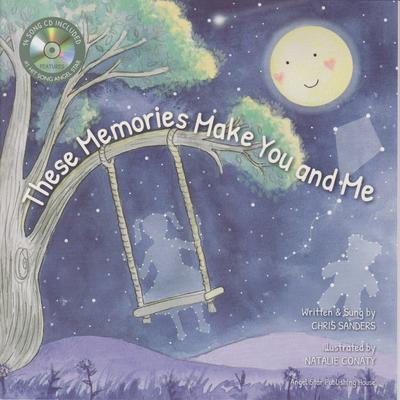 $22.00
NZD
Category: Books with CDs
Beautiful songs and stories that take you on a journey, from the moment you first lock eyes with your new baby to marveling at how quickly they have grown. Cherish every moment. 8 Beautiful songs plus 6 bonus lullaby songs!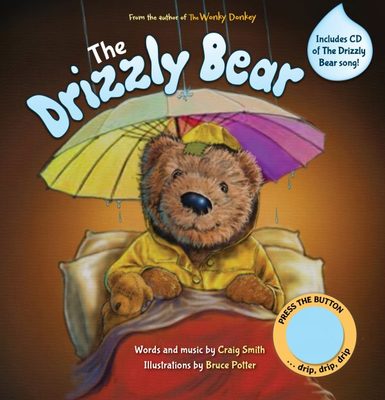 $27.00
NZD
Category: Books with CDs
A fun and interactive tale that asks the question "How can a bear fall asleep when there's a hole in the roof and it's raining?" With an underlying message of hope and optimism, Drizzly Bear shows us that with resourcefulness we can stay happy and continue to dream even through the tough times... With w onderful illustrations by Bruce Potter. ...Show more
$21.99
NZD
Category: DVDs, CDs and Books with CDs
Julia Donaldson and Axel Scheffler's bestselling picture book, THE HIGHWAY RAT, is now available in an appealing read-alone format. 'Give me your buns and your biscuits! Give me your chocolate éclairs! For I am the Rat of the highway, and the Rat Thief never shares!'Life is not safe for the other animal s, as the villainous Highway Rat gallops along the highway, stealing their food. Clover from a rabbit; nuts from a squirrel - he even steals his own horse's hay. Then he meets his comeuppance, in the form of a cunning duck. A fabulous, rollicking rhyme, in the style of the Alfred Noyes poem, 'The Highwayman'. This Early Reader edition contains the complete classic story and pictures, in a pocket-book format, and with an extra-clear font and layout, to support children who are gaining confidence in reading. ...Show more
$18.99
NZD
Category: DVDs, CDs and Books with CDs | Series: Nee Naw
NEE NAW! NEE NAW! I'm a little fire engine. NEE NAW! NEE NAW! I'm happy I'm me. Get your siren going and sing along with a FFFTTT PLOP BANG as Nee Naw, the little fire engine, saves the day.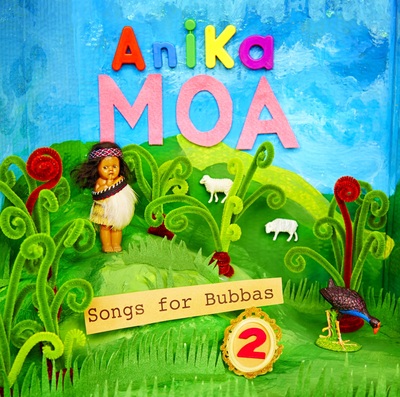 $22.99
NZD
Category: DVDs, CDs and Books with CDs
Hot on the scuffed up heels of Anika's first children's al­bum, the multi-award winning Songs for Bubbas, comes it's younger, naughtier twin. Full of delight and mystery, Songs for Bubbas 2 promises to cast a spell of wonderment on your preschoolers. Anika's muses/focus group are her own childre n and with a new arrival between albums, the songbird and crazy storyteller has three mischievous tamarikifor inspiration.  Songs for Bubbas 2 is joyfully jammed with 12 songs that go will have children dancing with delight yet also keep them quiet in the car. It takes the listener's ima­gination on a journey, from escaping wild animals to being popped in a witches' stew – ewww! Along the way they will meet a naughty martial arts obsessed rat who likes to Chop! Chop! And a Taniwha who is one loveable rogue.The album helps teach Te Reo too. There's a cover of classic Maori song, 'A Haka Ma' while the beautiful old hymn, 'E TeAriki' will send them off to sleep (with all these dreams in their heads). Such was the demand for a sequel to Songs for Bubbas that Anika was able to raise all the funds needed on PledgeMe thanksto her adoring public. The album was then written in cottages all over Aotearoa and recorded/co-produced by her musical soul mate, Andre Upston. Yes, Anika is as magical a force as ever as she glides with ease between her writing roles, parenting and touring. She's pretty cool if you ask me.  "My kids have given these 12 songs their personal stamp of approval. They are my inspiration and continue to help me deliver my upmost bestest me. I'm so happy that I can take them on myjourney as I write about my life from all angles. A huge thank you to everyone who put their money into this album. I know you've been waiting to hear what happens next…" Track Listing: Disc 1: The Witch Of Maketu The Adventures of Barry and Taane 2 Our Dream (For The Parents) My Nanas Farm Taniwha, Taniwha If I Had A Little Girl A Haka Ma Chop ChopHiyaaa! KoWaiTouIngoa Little Bird 2 Soren E TeAriki ...Show more
Geronimo (Book + CD)
by David Walliams (Read by); Tony Ross (Illustrator)
$25.00
NZD
Category: Books with CDs
The HEARTWARMINGLY HILARIOUS children's picture book from NUMBER ONE bestselling David Walliams. Illustrated by artistic genius Tony Ross, and read by the author himself in this spectacular book and CD edition! Meet Geronimo - the baby penguin who has one dream and one dream only - and that is to fly! But everyone knows penguins can't fly... or can they? With a little help from his dad and friends, baby Geronimo discovers that even the wildest of dreams can come true. A delightfully topsy-turvy book with an uplifting message about following your dreams - another blockbusting classic from David Walliams and Tony Ross! Hilariously read by David Walliams, this fantastically funny story now comes in this brilliant Book and CD edition. There are lots of funny pictures of penguins in this book, but please note any mention of 'free' penguins on the back cover is a joke and as such should be taken lightly. ...Show more
$21.99
NZD
Category: Books with CDs
Whos this funny-looking bunch of animals? Theyre gangly, warty, bumpy, bristly, spotty, stinkyand totally irresistible! Julia Donaldson and Axel Schefflers wonderfully warm, funny picture book is a glorious celebration of the real-life Ugly Five animals in Africa.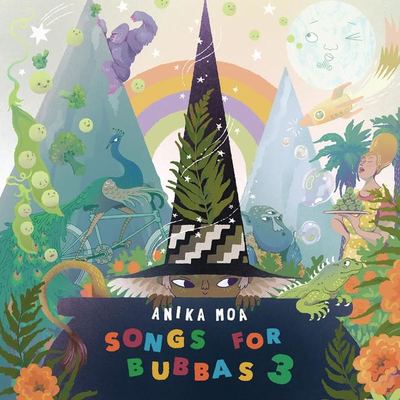 $29.99
NZD
Category: Music CDs
Anika Moa returns with the third instalment of her hugely successful Songs For Bubbas series. Packed full of musical treats for your tamariki, the album features Julia Deans, Anna Coddington and Steph Brown. Track Listing: Disc 1: Ngā Tae O Te Uenuku Mrs Heather Fiddly Widdly Bum's So ng About Veges A Monster In My Room Ngā Rā O Te Wiki Tō Tinana The Witch of Maketu 2 Tūi's Graceful Song I Can See Clearly Now Marigold Purea Nei Te Pō, Te Pō, Te Pō ...Show more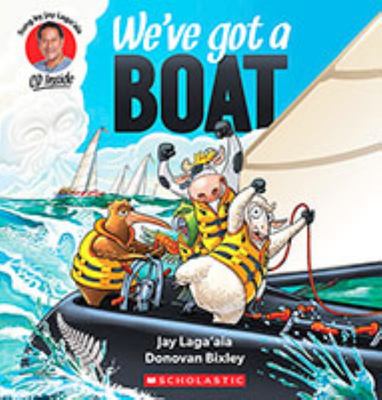 $21.99
NZD
Category: Books with CDs
We've got a boat that flies across the water. Weve got a boat that flies across the sea. You know this boat, it sailed from Aotearoa. It stays afloat because its carried by Kiwis. Join Team Kiwi and sail away on a boat guided by ancient waka, woven with flax sails, powered by a taniwha and bound for vic tory... GO KIWIS GO! Sing along to Aotearoa's unofficial America's Cup song! ...Show more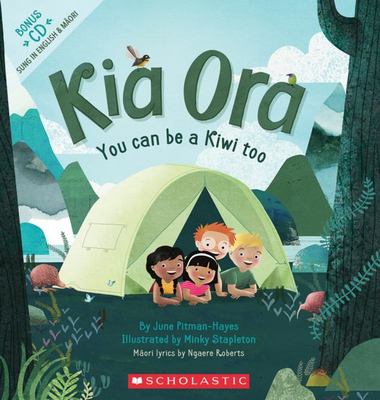 $19.99
NZD
Category: Books with CDs
Kia ora! Join hands with us and explore this country we call Aotearoa. Welcome to the shores of New Zealand, where you can be a Kiwi too! From the creator of Tawhirimatea: A Song for Matariki comes a playful new singalong in English and Maori.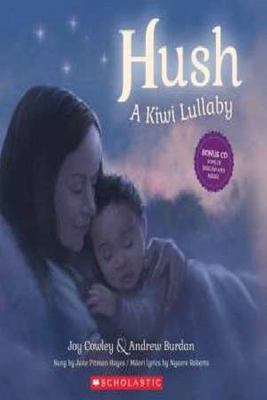 $19.99
NZD
Category: DVDs, CDs and Books with CDs
Regarded by some as the mother of children's publishing in New Zealand, it is fitting that Joy Cowley has penned this warm-hearted Kiwi version of a traditional lullaby, with words in both English and te reo Maori. From sheep to kowhai flowers, and from paua shells to silver ferns, this special picture book will be a treasured addition to any home library. Stunningly illustrated by Andrew Burdan with pictures that could easily grace the walls of any art-lover's home. Māori lyrics by Ngāere Roberts; sung by June Pitman-Hayes. ...Show more