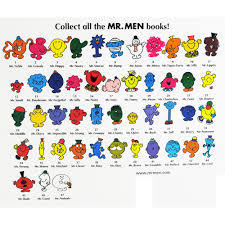 $4.99
NZD
Category: Picture Books
The Mr Men and Little Miss have been delighting children for generations with their charming and funny antics. Bold illustrations and funny stories make the Mr Men and Little Miss the perfect story time experience for children aged two and up. Have you met them all?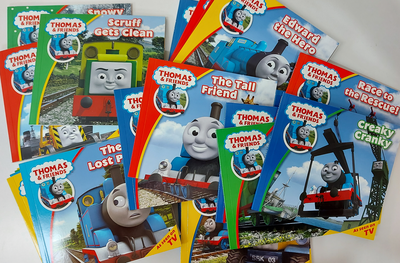 $4.99
NZD
Category: Picture Books
Short stories based on the popular Thomas and Friends TV series. If purchasing online we cannot guarantee which book you will get.
$24.99
NZD
Category: Board & Cloth Books
The owl goes hoo hoo. The cat goes meow. The raindrop goes plop. The door goes knock knock. The baby goes waaa. Daddy goes shhh. The kiss goes mwahh. With over 100 pages, this unique board book is full of bright, bold illustrations and lots of noises to make. It's perfect to share with a baby or toddle r. ...Show more
$29.99
NZD
Category: Hardback Books
A gorgeous lift-the-flap counting game that pairs parent animals with their babies, from the bestselling author of Room on the Broom. From a bat and its pup, to a frog and its twelve tadpoles, young readers will delight in counting each creature's babies and learning unusual scientific names for young animals. With rhyming text, lift-the-flaps and peekaboo holes, and a surprise search-and-find element, this is a read-aloud delight and preschool must-have. ...Show more
$19.99
NZD
Category: Picture Books
All of Jasper's dreams come true when he finds his very own 'puppy dog' to walk in Centenary Park. But Daisy the 'dog' isn't much of a walker — she tends to spend most of her day climbing gumtrees and dozing. If only someone would explain to Jasper that Daisy is a koala, NOT a dog! Just as Jasper's abou t to give up on his dream, he has a madcap idea of how Daisy can still join him on his daily walk, whether she's asleep or not. Lazy Daisy is a hilarious rhyming story that will have kids doubled over with laughter. ...Show more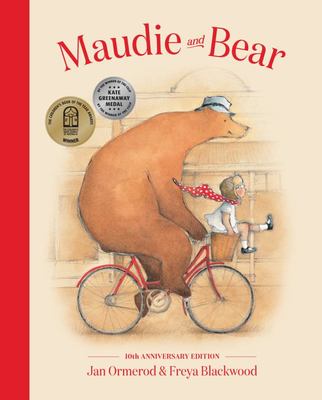 $19.99
NZD
Category: Picture Books
Maudie tests love to its limits, and Bear passes the test every time. Maudie's world revolves around Maudie. Bear's world also revolves around Maudie—he is as patient and solid as a rock. Maudie is so confident of Bear's love that she makes demands, throws tantrums, lays down rules and lets Bear do all the work, knowing he will love her unconditionally. And he does … right to the end. ...Show more
$19.99
NZD
Category: Picture Books
A jealous big sister learns a very loving lesson in this warm and funny picture book about sibling rivalry, featuring charming text and nostalgic artwork.Caroline Crocodile is not thrilled with her baby brother. He drools. A lot. But all Mama Crocodile ever says is how GORGEOUS he is! And so Caroline ve ntures into a baby shop to swap out her brother. Unfortunately, the baby panda is a fussy eater, the giraffe is missing scales, and the piglet isn't green. Turns out, the best younger sibling around might just be her own yellow-eyed, sharp-clawed, drooling baby brother. ...Show more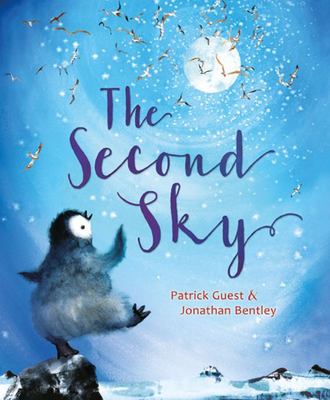 $19.99
NZD
Category: Picture Books
The first thing Gilbert sees when he hatches from his egg is the sky. It is love at first sight and from that moment on Gilbert longs to fly like other birds.  But Penguins don't fly, they waddle, and so begins Gilbert's quest to find his place in the world.  Great things happen when you reach for t he sky.  ...Show more

Duck
by Holmes, Janet A.
$19.99
NZD
Category: Picture Books
Duck is where the heart is ... A little boy believes his woollen toy duck is utterly dependent on him, but when Duck goes missing, the boy realises he is just as dependent on Duck for his happiness. This is a delicately simple story about togetherness, loss and love.
$19.99
NZD
Category: Picture Books
Near mountain, scrub and oceanfront, we tiptoe on our Easter hunt.We look over. We look under.And then...A group of lambs are on an Easter egg hunt. They find all kinds of eggs - kiwi, tui, keruru, little blue penguin (korora) and kakapo - before the little lambs finally find what they've been looking f or: Easter eggs to share with all their whanau.This colourfully illustrated picture book takes the celebration of Easter and uses it to highlight the beauty of New Zealand's flora and fauna. ...Show more
$18.99
NZD
Category: Picture Books | Series: Simon
The little rabbit is loved by his family, even though whenever they ask him a question, he answers very rudely. In the morning his mother would say, 'Time to get up, my little rabbit ' He'd reply: 'Poo bum '. One day the little rabbit meets a hungry wolf. Will he learn his lesson once and for all?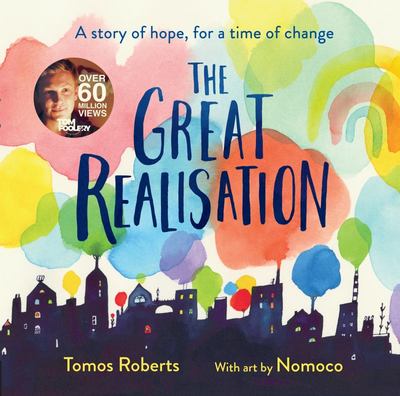 $24.99
NZD
Category: Hardback Books
A post-pandemic bedtime tale that has captured the hearts of millions. First performed in response to the Coronavirus pandemic, Tomos Roberts' inspiring poem, with its message of hope and resilience, has been viewed more than 60 million times and translated into over 20 languages worldwide. From simple acts of kindness, to the creativity within us all, The Great Realisation is a celebration of the many things that have brought us together at a time of crisis. It captures, with magical resonance, the thoughts and feelings of millions worldwide as we adapt to a new way of life, cast aside old habits and reflect on what truly matters to us. It is a story for all readers, young or old, who dare to dream of a fairer, kinder, more loving world. ...Show more